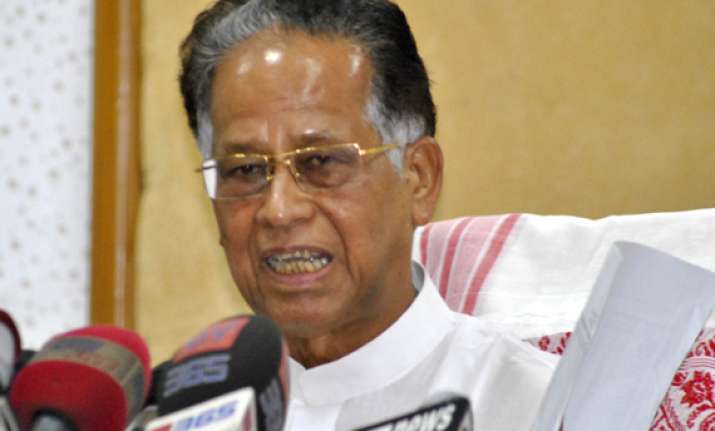 Guwahati, Jul 5: A day after BJP President Rajnath Singh accused UPA government of failing on all fronts, state Chief Minister Tarun Gogoi today shot back at the opposition party saying it was "completely divided" and "full of ambitious leaders".
"BJP is saying they will come back again next year. Forget about Assam, they can't do anything in India. Their leadership is completely divided. BJP has the highest number of Prime Minister candidates. The party is full of ambitious leaders," Gogoi told reporters here.
The senior Congress leader said Assam "was in darkness" during NDA rule at the Centre and that the BJP understands the issues affecting the north-east region least among allpolitical parties.
Comparing it with the Congress, Gogoi said the party has a high command and everyone listens to its directives, but it is not the case with BJP as too many leaders give too many orders.
Refuting BJP's claim of capturing power at the Centre in 2014, he said Congress will do better than last time in the next general elections.
In his first visit to Assam after becoming the national president of BJP, Singh had yesterday charged the UPA government that it has failed on all fronts, whether economic, security or diplomatic.
Commenting on Singh's charges, Gogoi said: "What were they doing during their tenure? They were saying 'India Shining',but was doing nothing. Assam was under darkness at that time.
Teachers were not getting salaries. Secret killings were on high. They are just shedding crocodile tears for Assam and the region. They are shouting only from lips, not from hearts"
Talking about the foreigners issue, which was raised bySingh during his two day-visit, Gogoi said the state government was serious about solving the problem through
update of National Register of Citizens (NRC) list.
"During NDA rule, they did not do anything to solve this foreigner issue. I was the chief minister and I took up the issue with the then Home Minister L K Advani, but they did nothing," he charged.
On the land-swap deal with Bangladesh, he said 665 acres of state land are under the possession of the neighbouring country since independence.
"We are working on this and now we will get back 397.5 acres from them. These things take time to solve," Gogoi explained.
He also said only three kilometres are left to fence the Bangladesh border in Assam and once these land parcels are received, it will be completed.
Singh had yesterday said whatever land India gives away,it should be compensated and it should be carried out in discussion with Assam and West Bengal.
The Assam Chief Minister also said UPA government has launched many pro-poor schemes like Mahatma Gandhi National Rural Employment Guarantee Act (MGNREGA) and now it is introducing the Food Security Bill.
Asked about the ordinance route to introduce the Bill, Gogoi said: "What will we do? We know how BJP is functioning in the Parliament. They are not allowing the parliament to function at all. We were forced to bring it through an ordinance".