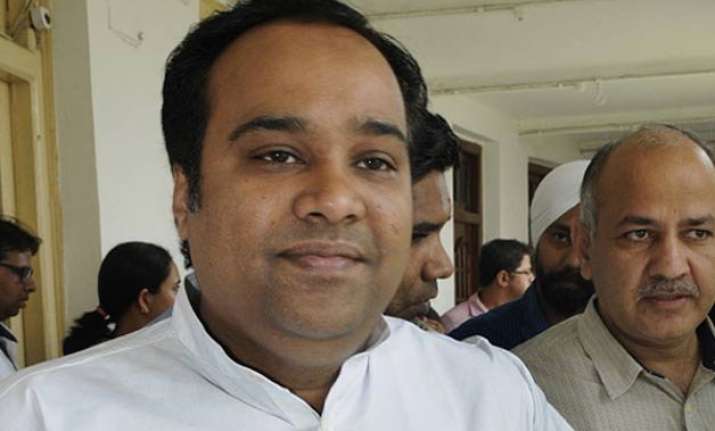 New Delhi: Delhi Chief Minister Arvind Kejriwal today sacked his cabinet minister Asim Ahmed Khan after accusations of corruption were made against him.
Announcing the decision, Kejriwal said, "A serious accusation against minister Asim Ahmed was made after which he has been removed from the post. We will not tolerate any kind of corruption."
"We received a complaint, assessed it and have decided to remove Asim Ahmed from Cabinet; we're referring this complaint to CBI," Kejriwal said.
Kejriwal said that a man whose name could not be disclosed had sent an audio recording and a long letter accusing Asim Khan of corruption. "We've received serious complaint of corruption against our Cabinet Minister Asim Ahmed, complainant has sent us a 1-hour audio clip," added Kejriwal.
"We received a complaint last night that a building was being built in his constituency. It's construction was stopped and money was demanded from the builder, who paid the amount. There was a mediator between the MLA and the minister," the chief minister said.
"I and Manish listened to that audio clip, we did preliminary assessment of that & prima facie it seems to be a serious matter," Kejriwal said.
Asim was the Minister for Food and Civil Supply, Environment and Forest, Minority affairs and Election in Delhi Government. He represents Matia Mahal assembly segment. Imran Hussain, MLA from Ballimaran, will replace him as the Minister.
Asking BJP to follow suit, the AAP leader demanded removal of Rajasthan chief minister Vasundhara Raje Scindia and Madhya Pradesh chief minister Shivraj Singh Chouhan for their alleged involvement in graft.
"We will not spare anyone be it Minister, MLA or officer. Just give us evidence and we will remove the culprit the moment such charges are brought to our notice," the chief minister said.
Sources said Khan, when confronted with the audio clip, had confessed to Kejriwal of his wrongdoing. The chief minister said the action has been taken suo motu. "It was not a result of media expose. There will be no compromise with corruption. The decision has been taken with a heavy heart as there was a lot of trust involved. He's being removed till the CBI probe is on," he said.