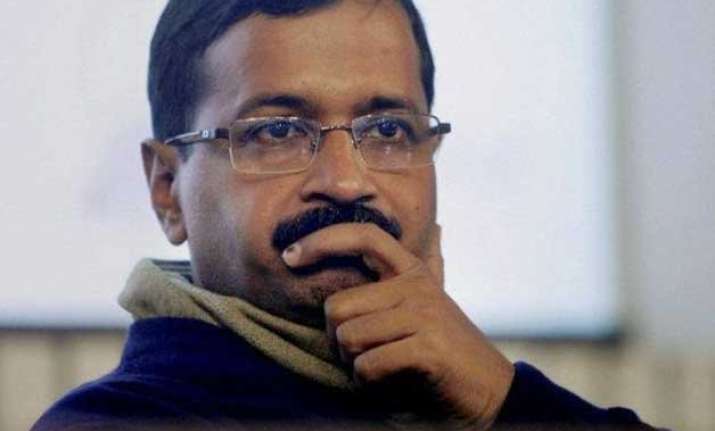 Mumbai: Delhi Chief Minister Arvind Kejriwal today appeared in a court here in connection with a case for allegedly holding a rally without required permission during the 2014 Lok Sabha polls
On December 9 last year, the Kurla court had granted Kejriwal permanent exemption from appearance in the case. However, Magistrate Richa Khedekar had directed the AAP leader to appear today for furnishing a bail bond.
The magistrate today allowed the Delhi CM to leave after his aide Satish Jain stood as his surety.
The rally in Mankhurd was held to campaign for AAP candidates Meera Sanyal and Medha Patkar, which the Mumbai Police has claimed was "unscheduled" and held without priorrequisite permissions from traffic police following which a complaint was filed against Kejriwal and others in March 2014.
Kejriwal had approached the Bombay High Court seeking quashing of the FIR and exemption from appearing before the Kurla metropolitan magistrate.
But the HC asked him to appear befofore the magistrate and seek permanent exemption from appearance from that court.
The court said that Rs 450 crore for setting up CCTVs was less than the cost of building a mall and observed that human life appears to be cheap.
It suggested to Delhi Police to "not be in tandem" with the Centre on this issue and to instead "function independently".
The bench said Delhi Police has to be "more aggressive" in its approach to this problem and added, "If you go along with the Centre nothing will happen."
"This is an important issue, but we think it is being taken too lightly," the court said.
Senior advocate Chetan Sharma and Special Public Prosecutor Shailendra Babbar, appearing for Delhi Police, assured the court that they would independently look into the issue.
The Centre had recently filed an affidavit indicating that it has sanctioned 4,227 posts in Delhi Police for the purpose of separating criminal investigation from maintaining law and order.
The Centre had said these posts would be operationalised in two phases, half in 2016-17 and rest in 2017-18 after a review of the scheme.
The court had made it clear that these additional personnel, once recruited, would be used for crime investigation only.
It had earlier also expressed annoyance at the Centre's delay in sanctioning additional police for the city.
The court was hearing a PIL initiated by it after the December 16, 2012 gangrape incident in which it has been giving directions on the issues of appointing more police personnel, setting up additional forensic labs and a victim compensation fund.