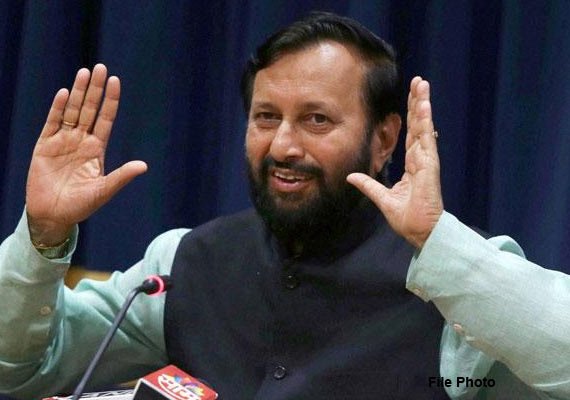 New Delhi: Adaptation, capacity building and strengthening rural capacities are the government's foremost concerns for addressing the challenges to climate change, Environment Minister Prakash Javadekar said Monday.
"The government stood committed to the 'Clean India, green India' philosophy outlined by Prime Minister Narendra Modi," the minister of state (independent charge) for environment, forest and climate change said.
Javadekar was speaking at the national workshop on scaling up good practices for climate change adaptation here.
He said that the government would shortly be finalising a comprehensive action plan on the climate change adaptation fund introduced in the union budget this year.
He pitched for a global, national, regional and even local-level handling of climate change.
He said: "While at the global level, the focus was on emission cuts and mitigation, India's perspective had focused on financial and technological support, information sharing and technology transfer for the developing communities to scale up adaptation strategies."
The minister added that a balanced global view needed to incorporate these aspects, as part of the new international protocol on climate change, will emerge in 2015.
Javadekar called for a collaborative, community-based, and participatory approach on the issue of climate change adaptation.
He said: "Efficient watershed management and water budgeting, soil health cards and disaster-risk mitigation strategies were of paramount importance."
He said that the common people and farmers in India were ready to adopt good practices and successfully adapt to the changes brought about by climate change.