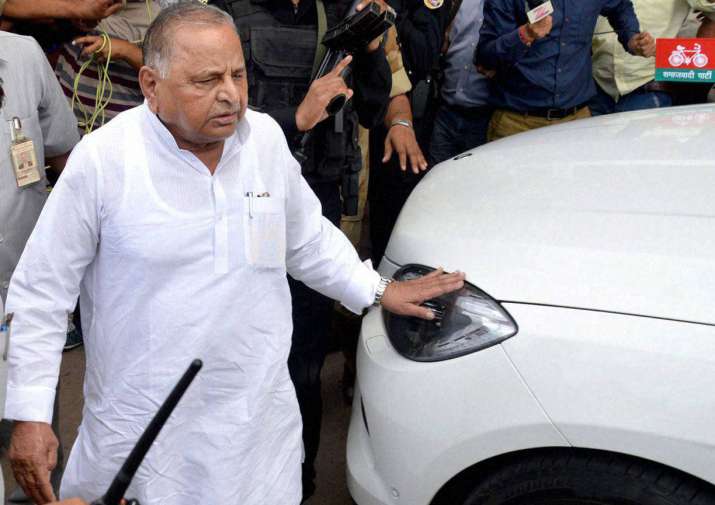 Despite agreeing to demands made by Uttar Pradesh Chief Minister Akhilesh Yadav, Samajwadi Party supremeo Mulayam Singh Yadav on Saturday showed no intention of letting him go off easy. Mulayam launched a scathing attack on his son and indicated that Shivpal was probably right in opposing Akhilesh as the CM after 2012 Assembly polls. 
"In 2012, Shivpal was of the opinion that I should become the chief minister for the fourth time, and Akhilesh must be given the position only after the 2014 Lok Sabha elections. Akhilesh has been miffed with Shivpal ever since," Mulayam said was quoted as saying by the Hindustan Times. 
Mulayam said that his brother was probably right in making the suggestion. 
"The defeat in the Lok Sabha polls was proof of this. Who was the chief minister when we lost in 2014 – getting just five seats? Can you even imagine how humiliated I felt? At one time, when I was the chief minister, we got 27 seats. At another instance, our Lok Sabha tally was 39. But how many seats did we get in 2014? Five seats – just five! We were ruined," he said.
"What happened despite his being the CM? Only five members from the family won. If I had listened to Shivpal, we would have won 30-35 seats and I would have been the PM," he added. 
The Samajwadi Party also reminded Akhilesh that he was made Chief Minister only because he was his son.
"If Akhilesh is unhappy with Shivpal because of his appointment as the SP state chief, he should remember that people accepted him as CM because he is my son. He never had any individual standing in politics," Mulayam told SP workers at the party headquarters where he rebuked the supporters of Uttar Pradesh Chief Minister Akhilesh Yadav and state Cabinet minister Shivpal Yadav for taking to the streets over a dispute involving the two. 
Mulayam also tore into UP CM's development agenda and said most of the schemes Akhilesh talks about were initiated by him. 
"I admit that his government may have done a good job, most of it consisted of just carrying forward the work my government did. Almost all the schemes he talks about were launched by me, be it Kanya Vidya Dhan, free power to farmers for irrigation, or free medicine to poor," he said. 
The SP supremo said the party won the 2012 elections because of the promising party manifesto that was drafted by him with the help of brothers Shivpal and cousin Ram Gopal Yadav. 
Mulayam also suggested his son to tolerate criticism and should learn to take everyone along. "Everybody must know that once you are in a high post, you should learn to take everyone along. You must also learn to tolerate criticism," he said. 
Mulayam also put an end to criticism on Amar Singh and said that the leader had stood by him when all others had dumped him after a CBI probe began against him. 
Mulayam also rebuked party workers for taking the party matter to the streets over a dispute involving Akhilesh and Shivpal. "I will not let this happen in the party. I have worked hard to bring it to this position. This 'tamasha' (circus) will not be allowed," he told the SP workers in a closed-door meeting, according to sources. 
As soon as Mulayam arrived at the party office here, he was surrounded by party workers as well as the media. The SP supremo directly went to the auditorium where the supporters of his son Akhilesh were shouting slogans, demanding that he be reinstated as the party's state unit president. 
The feud in Uttar Pradesh's first family ended yesterday with Akhilesh Yadav restoring all but one portfolios of Shivpal Yadav and promising to support him as SP's state unit president, a post from which he was himself removed three days back triggering the power tussle with his uncle. 
As per the compromise worked out by SP chief, Akhilesh's demand of having a say in ticket distribution has been met as he will be made the head of the state Parliamentary Board, which makes final decisions on deciding the candidates, party sources said. 
Before the announcement was made, Mulayam held a meeting with brother Shivpal and Akhilesh this evening to end the deadlock and discuss ways to strengthen the party. 
Akhilesh restored Shivpal's key portfolios including Irrigation and Cooperative which were taken away three days back. Shivpal was also given additional portfolios of Minor Irrigation and Medical Education. 
However, Public Works Department, which was among the portfolios taken away from Shivpal, was kept by the CM with himself. 
Akhilesh had stripped Shivpal of the portfolios and sacked Prajapati after he was replaced by his uncle as the party's state unit head, triggering a full blown war in the family. Subsequently, Shivpal had tendered his resignation from the Cabinet as well as party post. 
"I have myself congratulated SP's UP unit president Shivpal Yadav after meeting him at his residence.... I will extend all my support to Shivpalji," Akhilesh told reporters here earlier in the day, indicating rapproachment with his uncle with whom he was engaged in a turf war. 
His remarks came a day after he said he felt "very sad" when he was replaced with Shivpal as the state party president by his father Mulayam Singh Yadav.