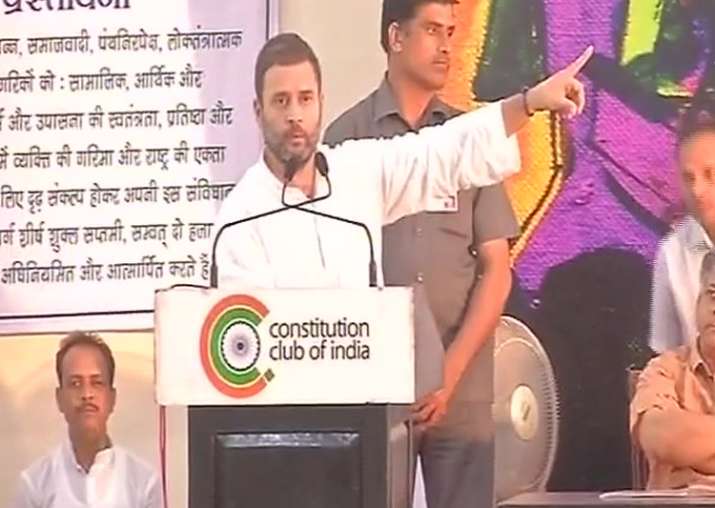 Congress vice-president Rahul Gandhi today accused the ruling BJP-led NDA government of not keeping its promise to bring back black money stashed away in foreign banks and not creating enough job opportunities in the country.
Speaking at a convention here convened by Janata Dal (United) leader Sharad Yadav, he said that the 'government is helping the corporates and not the farmers'.
"PM Modi's Make in India has failed, unemployment highest in last eight years."
Rahul also targetted the RSS and said that it was trying to change the Constitution of India. "One says this country is mine, other says I belong to the country. That's the difference between RSS and us." Rahul further said that the RSS never saluted the national flag till they were out of power. 
Jab tak inhone (RSS) Hindustan mein raaj nahi kiya tab tak jhande ko salute nahi mara: Rahul Gandhi at 'Sanjhi Virasat Bachao' event pic.twitter.com/rjZ9l7BRSr

— ANI (@ANI) August 17, 2017
"Modiji says he wants to create a Swachh Bharat, but we want a Sach Bharat," he said, adding 'wherever Modiji goes, he speaks some lie'. 
Four days after being removed as the leader of the JD(U) parliamentary party by the Nitish Kumar faction, Sharad Yadav on Wednesday called for a convention on Thursday in the national capital in defence of the composite culture of India, which was the Constitution's "soul". Yadav told the media that leaders from all Opposition parties, including the Congress, Samajwadi Party and Left parties, are likely to attend the convention. 
"Around 17 parties will attend our Sanjha Virasat Bachao program tomorrow, from Congress Manmohan ji and Rahul ji will be present," he said.
"There would be hardly anybody from the opposition who will not come", adding similar meetings will be held across the country. He said a "composite culture" was the soul of the Constitution, which is now being "tinkered with".
Reports suggest that leaders from across the Opposition, including Congress president Sonia Gandhi, vice-president Rahul Gandhi and party leaders Ahmed Patel and Ghulam Nabi Azad, CPM leader Sitaram Yechury, RJD leader Lalu Prasad and SP leader Akhilesh Yadav, have been invited to attend the convention in Patna today. 
Today's meet is seen as Yadav's show of strength against Chief Minister Nitish Kumar, with whom he fell out over Kumar's decision to rejoin hands with the BJP. Also, the convention is likely to widen the rift between the two leaders.  
While Yadav did not take any question on his differences with Nitish Kumar and future political course, he said that the 'Sanjha Virasat Bachao' was not against anybody but in the interest of the nation. 
The former JD(U) chief said the decision to hold the event was taken weeks ago, when his party was still with the loose opposition group.
He said that incidents such as the suicide of University of Hyderabad student Rohith Vemula and the disappearance of Jawaharlal Nehru University student Najeeb Ahmed and suicide by farmers across the country shows that the situation was not good for people from economically weak background. 
Yadav told reporters that Prime Minister Narendra Modi, who has said that violence on grounds of faith is intolerable, should tell BJP State governments to take strict action against such incidents.
Sharad Yadav should not be in company of 'evil forces': JD(U)
Meanwhile, JD (U) leader K.C. Tyagi asked party's rebel leader Sharad Yadav to shun the company of "evil forces" as it took a swipe at Lalu Prasad-led RJD, which will attend a meeting of the opposition hosted by Yadav today.
He also suggested that the veteran socialist will cross the red line of the party's discipline if he takes part in the RJD's August 27 rally in Patna as he called the Prasad-led party "corrupt" and "evil forces".
"For god's sake, he should not go to that rally. We have no problem with the questions he is raising but we will take exception to him sharing stage with tainted people. If he does not attend Lalu's rally, then we will respect him more. He should not be seen with evil forces," Tyagi told a press conference.
Tyagi said Yadav should attend the JD(U)'s national executive meeting in Patna on August 19 to raise his issues.
Yadav has come out against Kumar's decision to break ties with the RJD and join hands with the BJP.
Tyagi asked Yadav to reconsider his association with the RJD, saying he was among the few leaders to have resigned as a member of Parliament three times on moral grounds.