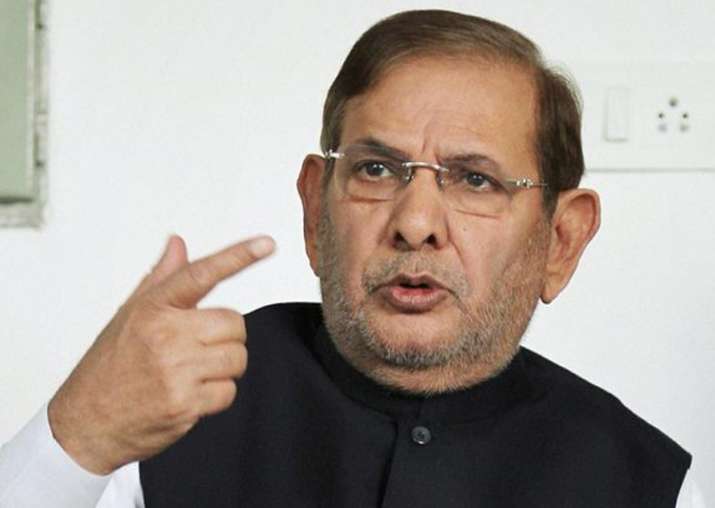 In the first direct attack by JD(U) against former party president Sharad Yadav since he voiced concerns over his party's alliance with the BJP in Bihar, a senior party leader on Thursday accused the Rajya Sabha MP of compromising with corruption. Targeting Yadav for not supporting Chief Minister Nitish Kumar's new alliance with the Bharatiya Janata Party (BJP), JD-U's chief spokesperson Sanjay Singh said, "Sharad Yadav is compromising with corruption by supporting the RJD and Congress-led 'Mahagathbandhan' in Bihar."
He was asked about Yadav's opposition to Nitish Kumar's decision to form a government with the BJP in Bihar after dumping the Grand Alliance with the RJD and the Congress.
The spokesman raised questions about Sharad Yadav's decision to hold a seminar against communalism in New Delhi on August 17, two days ahead of the JD-U National Executive meeting in Patna. Most senior leaders of the Congress and Left and regional parties are likely to attend the seminar.
Another JD-U spokesperson, Neeraj Kumar, said it was difficult to understand why Sharad Yadav was backing tainted leaders.
This is first time JD-U leaders have launched a direct attack against Sharad Yadav since Nitish Kumar embraced the BJP.
"The party has sent Sharad ji to the Rajya Sabha so he should respect the wishes of the party. JD(U) has a base in Bihar and Nitish ji is our icon. If Sharad ji wants to challenge the party, he should do so in Bihar. Sharad ji could differ on issues but politics cannot be a means to accumulate property. Lalu Yadav had nominated Pappu Yadav to contest against him (Sharad), this shows how much RJD chief respects him," Neeraj Kumar said.
Sharad Yadav has said that Nitish Kumar's decision to ally with the BJP violated the mandate given by the people of Bihar in 2015. He yesterday met some JD(U) office bearers where he discussed the development even as an aide said the veteran leader could float a new party.
In his first press conference after assuming charge again as the Chief Minister, Nitish had said that the decision to ally with the BJP was taken by the Bihar unit of the party. "JDU will hold a meeting of its National Executive in Patna on August 19 and all are free to air their grievances at the forum. The decision (to quit the alliance) was taken by the Bihar unit of the party and we stand by it. The EC only recognises the JDU in Bihar," he had said. 
(With agencies)