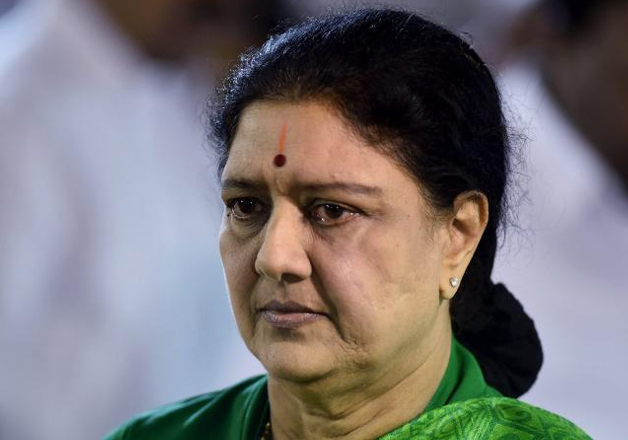 Jailed AIADMK supremo VK Sasikala may be shifted to Chennai's Puzhal Central prison from Bengaluru's Parappanna Agrahara Jail, where she is presently lodged after being convicted by the Supreme Court in a 19-year-old disproportionate assets case. 
According to a report in Times of India, lawyers of the 62-year-old leader are seeking her transfer from Bangaluru to Chennai's jail.
Citing a senior AIADMK leader, the daily said that the process of transferring her from the neighbouring state's jail to her home state's prison has already commenced.
"We are in such a position that we can neither confirm nor deny the information. All that I can say is that we want Sasikala to be shifted from Bengaluru to Chennai and have commenced the process," the AIADMK leader told TOI on Monday.
As per the rules, the lawyers will have to apply either to the superintendent of Bengaluru's Parappanna Agrahara Jail or contact the Karnataka Law Minister.
"It is up to the consent of the two states. We will move the plea to Karnataka government which will in turn forward our request to the Tamil Nadu government," Sasikala's counsel ND S Kulasekharan said.
However, BV Acharya, the special public prosecutor in the DA case, said that Sasikala can't be shifted without the Supreme Court's permission as her case is different. 
"She has been imprisoned in the Karnataka jail as per the directions of the Supreme Court. According to me, she cannot be shifted without the SC's permission. If they do so without informing the apex court, then it can be challenged," Acharya said.
The ruling party's spokesperson Avadi Kumar said that it was a deserving case and the lawyers were rightfully seeking her transfer. 
"The effort to shift Sasikala is as per the provision under law," Kumar said.
Meanwhile, TVV Dinakaran, Sasikala's nephew and deputy general secretary of AIADMK, visited her at Parappanna Agrahara jail today where she is serving her four-year sentence.
Dinakaran was also accompanied by a few workers of the AIADMK and the meeting between Sasikala and others lasted for about 30 minutes.
On the directions of the Supreme Court, Sasikala returned to prison last week to resume the four-year term awarded to her by a local court.