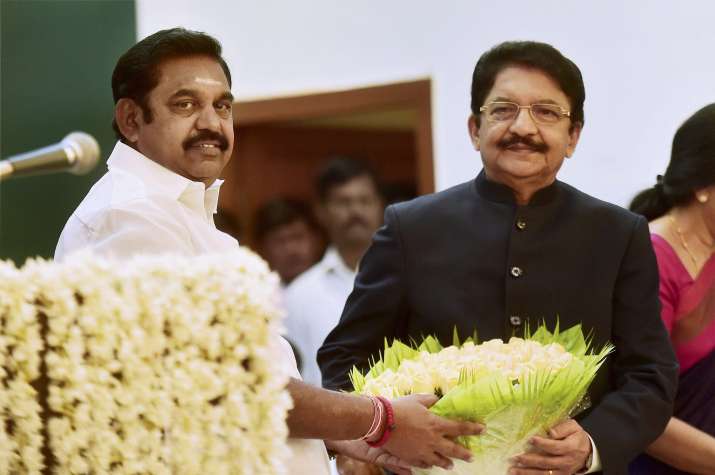 After 10 days of political uncertainty, Tamil Nadu today got a new Chief Minister after V K Sasikala loyalist Edappadi K Palaniswami was sworn-in by Governor C Vidyasagar Rao.  
The political uncertainty in the state began with caretaker Chief Minister O Panneerselvam's revolt against the AIADMK General Secretary VK Sasikala.  
Governor C Vidyasagar Rao administered the oath of office and secrecy to 63-year-old Palaniswami, a party veteran from western Tamil Nadu, as the head of a 31-member Cabinet at a ceremony in the Raj Bhavan this evening.  
The ministers were sworn-in in batches.  
31 ministers including Tamil Nadu CM E. Palanisamy to take oath today. pic.twitter.com/Jlt5tQcOuf

— ANI (@ANI) February 16, 2017
He will seek a vote of confidence in the state assembly at 11am on Saturday.
"Under Section 26 (1), Speaker P Dhanapal has summoned the assembly on February 18 at 11am. On the occasion, motion for vote of confidence of the ministry will be taken up," assembly secretary AMP Jamaludeen said in a brief statement.
He was invited to form government by the Governor today and was given 15 days to prove his majority in the Assembly. 
After the oath-taking ceremony, Palaniswami visited the memorials of party founder M G Ramachandran and Jayalalithaa where he paid floral tributes. 
As a mark of reverence, Palaniswami prostrated at Jayalalithaa's memorial on the marina. 
He was accompanied among others by AIADMK deputy general secretary T T V Dinakaran, who is a nephew of Sasikala. 
Palaniswami exuded confidence that he will prove his majority in the Assembly and ensure that "the government of Amma (Jayalalithaa) will continue." 
"I wish to say that Amma's (Jayalalithaa) government will continue by me proving majority in the Assembly," he told reporters in his first media interaction after taking over as Chief Minister of the southern state. 
The Governor had asked the newly sworn in Chief Minister to seek the vote of confidence in the Assembly within 15 days. 
Also Read: Edappady K Palaniswami: From an ordinary AIADMK member to Tamil Nadu Chief Minister
Palaniswami, who took oath as the 13th CM of the state, retained most of the ministers from outgoing Tamil Nadu Chief Minister O Panneerselvam's cabinet in his ministry. 
Among others, Palaniswami will hold portfolios of Home and Finance, besides Public Works, Highways and Minor Ports, which he had managed as a minister in the Jayalalithaa and Panneerselvam cabinets, sources said.  
K A Sengottaiyan, recently elevated as AIADMK Presidium Chairman following the sacking of E Madhusudanan, also made his comeback into the AIADMK cabinet. 
Originally included in her cabinet in 2011, Jayalalithaa dismissed Sengottaiyan the very next year and he could never make a comeback. 
Palaniswami is the third person to occupy the top post in the last nine months after AIADMK returned to unprecedented second consecutive term in 2016 Assembly elections. 
AIDMK supremo and Chief Minister J Jayalalithaa had powered the party to a rare successive term in office in the state in the May, 2016 Assembly Polls. She continued in the post through her grim 74-day battle for life. 
Within hours of her death on December 5, Panneerselvam, who had filled in for Jayalalithaa twice in the past when she had to go to jail in corruption cases, was sworn-in as Chief Minister.  
Panneerselvam later stepped down, paving the way for Sasikala, who was already chosen AIADMK general secretary, to be elected its legislature party leader on February 5. 
However, the usually reticent Man Friday of Jayalalithaa rose in rebellion against Sasikala two days later, claiming he was coerced into resigning. 
He even expressed willingness to become Chief Minister again if the people of Tamil Nadu and AIADMK workers so desired. 
His belligerence plunged the state into a political crisis. 
Amid the face off with Panneerselvam, Sasikala met Governor Rao on February 9 and staked claim to form the government. 
Notwithstanding criticism from several quarters, Rao preferred to wait and watch as the political tug-of-war played out between the rival AIADMK factions. 
He stood vindicated when Sasikala and two members of her family were convicted and their sentences restored by the Supreme Court in a disproportionate assets case on February 14, rendering her ineligible for contesting elections for 10 years and dashing her hopes of becoming the Chief Minister. 
Sasikala then handpicked her loyalist Palaniswami, who was elected AIADMK legislature party leader, and staked claim to form the government on Tuesday. 
Palaniswami was invited by the Governor today to form the government after he submitted a list of 124 MLAs supporting him last night. He has 15 days to prove his majority in the 234-member Tamil Nadu Assembly.
Soon after Governor invited Palaniswami to form the government, MLAs supporting Sasikala began leaving the premises of the resort near here where they were staying for the past eight days. 
"All the legislators are starting from here," Lok Sabha Deputy Speaker M Thambidurai told reporters at the premises of resort, about 80 km from here. 
"Dharma has won," he said. 
Asked if his party was still worried about MLAs switching to the faction led by O Panneerselvam, he said, all the legislators are united and supporting Palaniswami. 
"All the MPs as well are with us," Thambidurai said. 
The ruling party legislators started arriving at the resort on February 8, a day after Panneerselvam rebelled against Sasikala. 
Panneerselvam and his supporters had alleged that the MLAs were forced to stay there against their will. 
Srivaigundam MLA S P Shunmuganathan on February 10 had filed a police complaint, claiming that AIADMK MLAs were illegally confined as per Sasikala's "instructions". 
On February 12, police booked a case of abduction and wrongful confinement against Sasikala and Palaniswami following a complaint by Madurai South MLA S S Saravanan. 
However, the MLAs, whose opinion was sought in this regard, had said they were staying there on their "own volition."
Palaniswami allots portfolios, keeps Home and Finance 
New Chief Minister Palaniswami will hold the important Home and Finance portfolios, which were earlier held by his predecessor O Panneerselvam. 
Besides, he will also take care of other key portfolios of Public Works, Highways and Minor Ports, which he had managed as a minister in the Jayalalithaa and Panneerselvam cabinets. 
The Chief Minister allotted the following portfolios to his Cabinet Ministers: C Srinivasan (Forests), K A Sengottaiyan (School Education), K Raju (Cooperation), P Thangamani (Electricity), S P Velumani (Municipal Administration), D Jayakumar (Fisheries) and C Ve Shanmugam (Law). 
K P Anbalagan will look after Higher Education, V Saroja (Social Welfare), M C Sampath (Industries), K C Karuppannan (Environment), R Kamaraj (Food), O S Manian (Handloom), K Radhakrishnan (Housing), C Vijaya Baskar (Health and Family Welfare), R Dorai Kannu (Agriculture), Kadambur Raju (Information), R B Udhayakumar(Revenue) and N Natarajan (Tourism). 
K C Veeramani has been allotted Commercial Taxes, K T Rajenthira Balaji (Dairy Development), P Benjamin (Rural Industries), Nilofer Kafeel (Labor), M R Vijayabaskar (Transport), M Manikandan (Information Technology), V M Rajalakshmi (Adi Dravidar and Tribal Welfare), G Baskaran (Khadi and Village Industries Board) and S Ramachandran (HR and CE). 
S Valarmathi has been given charge of Backward Classes and Minority Welfare department, while P Balakrishna Reddy will be the Animal Husbandry minister. 
All the Ministers, barring Sengottaiyan, had handled the respective portfolios in the Panneerselvam cabinet too. K Pandiarajan, now in the Panneerselvam camp, was School Education Minister in the previous cabinet.
(With PTI inputs)