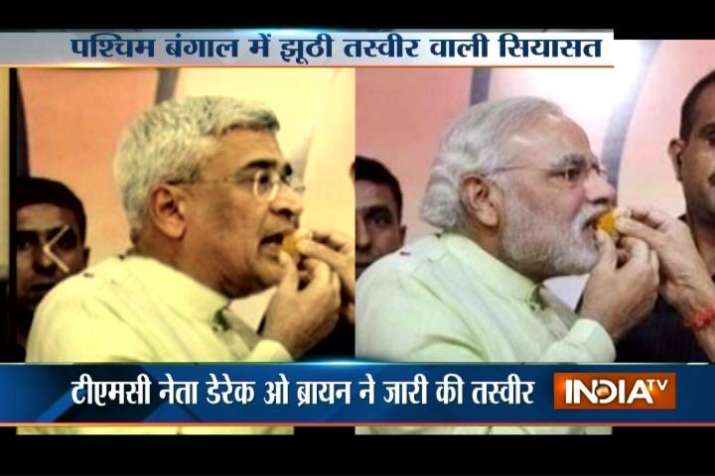 New Delhi: CPI(M) leader Prakash Karat on Sunday filed a police complaint against TMC leader and Member of Parliament Derek O' Brien for allegedly using his morphed picture with Union Home Minister Rajnath Singh. 
"The Trinamool Congress has resorted to a very low level tactic by presenting a morphed picture of me and Shri Rajnath Singh. I have had no opportunity to meet Rajnath Singh, but this has been done to politically defame me and my party and show me in bad light among the people," said Karat. 
Prakash Karat lodged a formal complaint against Trinamool Congress leader Derek O' Brien with Mandir Marg police station in central Delhi. 
"I have lodged a complaint with Delhi Police as morphing a photograph like the manner it was done by a political party is an offence under cyber laws. Therefore, I have requested police to register an FIR in this connection," he said. 
The photograph turned out to be "photoshopped" after BJP released the original picture in which Rajnath Singh could be seen offering sweet of Prime Minster Narendra Modi. 
Karat targeted the Mamata Banerjee-led TMC party over the morphed picture episode and sais that TMC is getting "increasingly desperate" and is already afraid of getting defeated in the assembly polls. 
"This shows that the TMC is desperate and it is afraid of impending defeat in the coming elections, otherwise they must not have stooped to such low. The Election Commission should take cognizance of this issue," Prakash Karnad said.
The Trinamool Congress, following a press conference by its national spokesperson O'Brien, had yesterday posted two videos and six pictures on its website in an attempt to prove close links between Communist Party of India-Marxist (CPI-M) and Bharatiya Janata Party (BJP) leaders.
The party, however, removed the morphed picture from its website after controversy.
(With inputs from agencies)