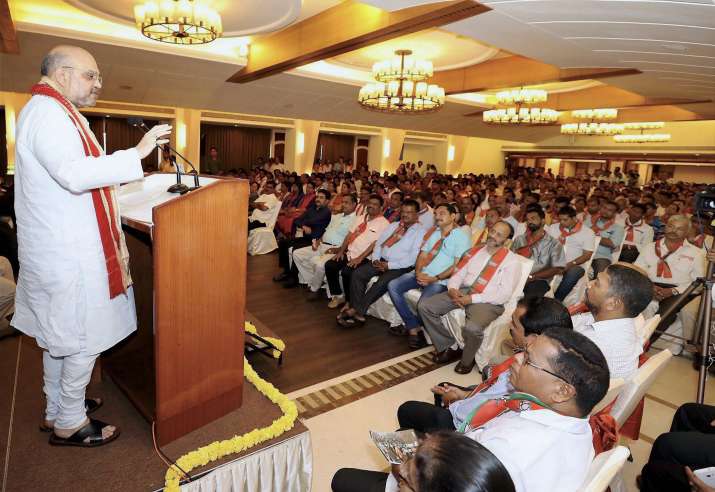 Under attack over lynch mobs killing those suspected of cow slaughter or eating beef, Bhartiya Janata Party (BJP) President Amit Shah on Saturday claimed that there more such incident under the previous governments than during three years of NDA rule but no questions were raised back then. He also insisted there was "no apprehension or fear" anywhere in the country in the aftermath of such incidents. 
"I do not want to compare and undermine the current incidents of lynching. I am also serious about it. But there have been more lynchings each year in the past, compared to the total lynching incidents that have happened during our three-year-long tenure," Shah told a gathering of professionals in Goa last evening. 
The BJP's president's claim provoked a sharp counteroffensive from the Congress whose spokesman Randeep Surjewala accused the Modi government of "overtly" supporting the "lynching movement". 
Shah claimed that despite higher number of lynching incidents in years before Narendra Modi government came to power, but questions were not asked then. 
"Humaare teen saal main jitne lynching hue hain usse zyada hue hain ek ek saal main. Magar kabhi yeh sawaal nahi uttha thha. Aur ab sawaal kis tarah se uthaye jaate hain (There have been more incidents of lynching in each of these years than in NDA's three years. But questions were not raised back then. And how questions are being raised now)," the BJP chief said. 
The BJP-led government under Narendra Modi came to power at the Centre in May 2014. 
On a question if apprehension across the country was growing due to public lynchings, the BJP leader said, "There is no apprehension anywhere in the country."
"Do you know of any such incident where arrests have not been made? I do not have any answer to apprehensions. There is no apprehension anywhere in the country," he said, responding to a question about whether an environment of fear prevailed after mobs beat up people over alleged cow slaughter or beef consumption, often leading to their death. 
Noting that law and order was a state subject, Shah said when Mohammad Akhlaq was beaten to death at Dadri in Uttar Pradesh in September 2015 over suspicion of storing and consuming beef, the state had a Samajwadi Party government and it was its responsibility to prevent the incident. 
"But protests were held in Delhi in front of the Narendra Modi government. What is this fashion?" he asked. 
BJP hits back, says lynchings have 'tacit protection and support' of BJP
Reacting sharply to Shah's accusation, the Congress party whose government preceded Modi's, alleged these incidents had "tacit protection and support" of the BJP dispensation. Surjewala said despite President Pranab Mukherjee showing the "mirror of truth" to the BJP government on incidents of "mob frenzy that have become irrational and uncontrollable" Shah has chosen to ignore it. 
"Instead of listening to the conscience keeper of the nation Shah has most shamelessly chosen to ignore the reality of a bizzare yet concerted lynching movement which the government has overtly supported and encouraged in the last few months," Surjewala said in a statement. 
"Will Amit Shahji respond to 52 mob violence/lynchings in past 3 years of BJP Govt? what action was taken?" he said in a tweet. 
"Mob frenzy & lynching has become the rule under BJP Govt's watch. Corrective action, not falsification is the way Amit Shahji," he said in another tweet. 
Mukherjee has yesterday asked people to be vigilant against the rising trend of mob lynchings which needed to be checked. 
"We will have to pause and ponder over, and reflect, when we read in newspapers that an individual is being lynched because of some alleged violation of law or not. When mob frenzy becomes so hard and irrational, uncontrollable, we are to pause and reflect 'are you vigilant enough'?" Mukherjee had said. 
A string of such incidents have been reported from several states including BJP-rule Jharkhand, Haryana and UP, shocking the nation and prompting protests. 
Recently, a 15-year-old boy Junaid Khan was stabbed to death by a group of men on a train when he was returning home to Haryana's Ballabh district after shopping for Eid. Junaid bled to death after a heated argument over seats turned violent. His assailants allegedly accused Junaid, his brother and friends of being beef eaters. 
In Jharkhand's Ramgarh, a Muslim meat trader was beaten to death on Thursday by cow vigilantes who alleged he was carrying beef in his vehicle. Nityanand Mahto, a local BJP leader is among those arrested in connection with the incident. 
(With PTI inputs)