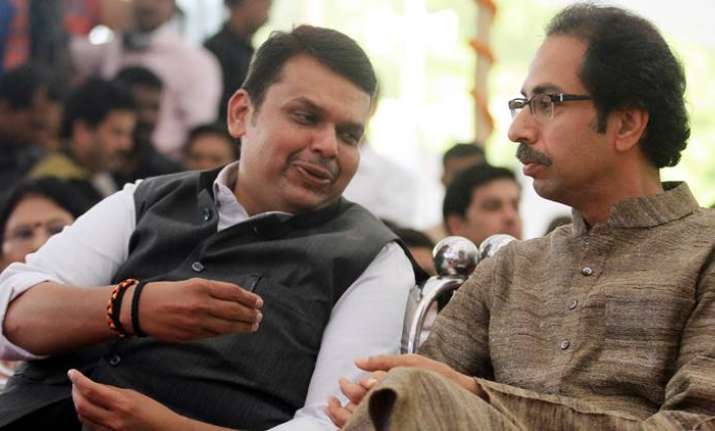 The Maharashtra unit of the BJP is considering the option of going for a snap poll in the state as the Devendra Fadnavis government is facing constant pressure from its ally Shiv Sena.
Buoyed over its recent victory in state elections in addition to strong showing in Maharashtra civic polls , the BJP believes that the situation was conducive for the party to secure a majority on its own.  
The party's core committee met in Mumbai on Thursday evening and mulled over a set of possible scenarios including the interim polls.
The current assembly has its term till mid-2019.  
"The meeting discussed political situation in case Sena isn't a part of the ruling dispensation," a BJP source said.  The feasibility of going for snap polls was discussed, the source told PTI. 
There was unanimity over acting against the Sena's "nuisance", including the negative comments in that party's mouthpiece 'Saamana', the source said.  
Its stellar performance in Uttar Pradesh and Uttarkhand assembly polls and the impressive showing in civic polls across Maharashtra have emboldened the BJP in the state.  There was also a discussion on weaning some MLAs away from other parties and getting them re-elected on BJP symbol, the source said. 
Chief Minister Devendra Fadnavis was among the leaders who attended the meeting, held at the official residence of Revenue Minister Chandrakant Patil.  In 2014 assembly polls, the BJP and the Shiv Sena had contested the polls separately. The BJP, which emerged as the single largest party, then formed a minority government with outside support of the NCP. 
Within a few months, Sena returned to the saffron alliance but failed to get the plum portfolios it wished for.  Despite being an ally of the BJP in Maharashtra and at the Centre, Sena kept up its stinging attack on the government's policies and even taunted Prime Minister Narendra Modi.  The Sena-BJP relations took a worse turn in recent civic polls, which they fought separately, taking tenaciously on each other. 
The BJP, under the leadership of Fadnavis, shook the Sena citadels including its heartland Mumbai in the civic polls.  However, after the elections, the BJP beat a tactical retreat in Mumbai allowing the Sena nominee to be elected as the Mayor of the metropolis.
(With PTI inputs)