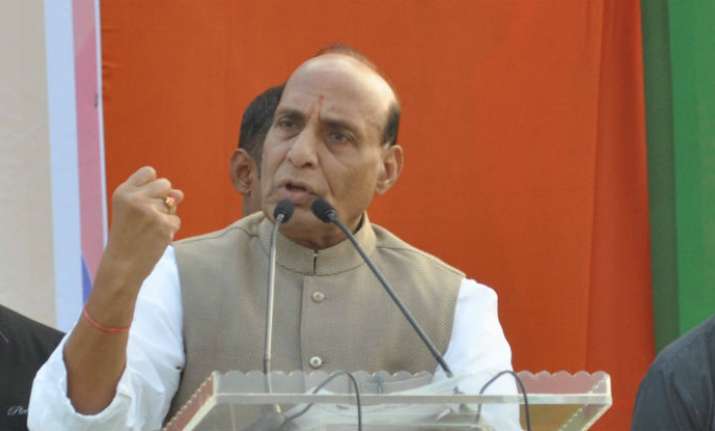 With Bharati Janata Party's Parivartan Yatra rolling into western Uttar Pradesh, Union Minister Rajnath Singh, at a rally in 'communally sensitive' Kairana on Monday slammed the ruling Samajwadi Party over deteriorated law and order situation in the poll-bound state.  
Targeting the ruling Samajwadi Party, Rajnath Singh said that the "self-respect of mothers and sisters is being looted" in the region. He went on to promise that if BJP is voted to power in the state, it will act against "those using muscle power to terrorise people". 
While avoiding the controversial issue of "exodus of Hindus" from Kairana, Singh raised the deteriorating law and order situation and the failure of the Samajwadi Party at the Parivartan Yatra which reached Shamli on Monday. 
Slamming the government on the "prevailing goondaraj", he also made remark on the "Mahabharata" going on in the UP's Yadav clan. 
 

"The people of Uttar Pradesh shouldn`t suffer because of your (SP`s) internal rift. Atal Bihari Vajpayee was the first one`s who was concerned about the villages of India. Our opponents were not able to put a single blame relating to corruption on our central government," he said. 

 
Rajnath Singh also spoke of the "corruption-free governments" that he and other BJP CMs provided in the state in the past. There have been speculations that he might be named as the party's chief ministerial candidate for the 2017 elections. 
 

"Today we blame the police and administration for corruption but let me tell you, if the CM himself is honest then even a constable can confidently control crime. When I was CM, police had stopped taking bribe from truckers. It was I who had implemented the 5th Pay Commission's recommendations for teachers, and cane farmers got timely payment. It's all about commitment. No one can accuse any of the BJP CMs of UP of corruption," Rajnath Singh was quoted by Times of India as saying.

 
The union minister also promised that the dues of sugarcane farmers would be cleared in six months if the BJP comes to power in Uttar Pradesh. 
Kairana has been at the centre of a row ever since BJP MP Hukum Singh alleged that "Kairana was being turned into Kashmir by forcing local Hindus to leave". 
In his speech, Rajnath Singh also targeted Pakistan for supporting terror and said Indian forces were giving a befitting reply at the border. 
"Pakistan is our neighbour and we do not want to have bitter relations with it but if it tries to weaken our country by sending terrorists then we will also cross LOC and inflict heavy damage," he said.