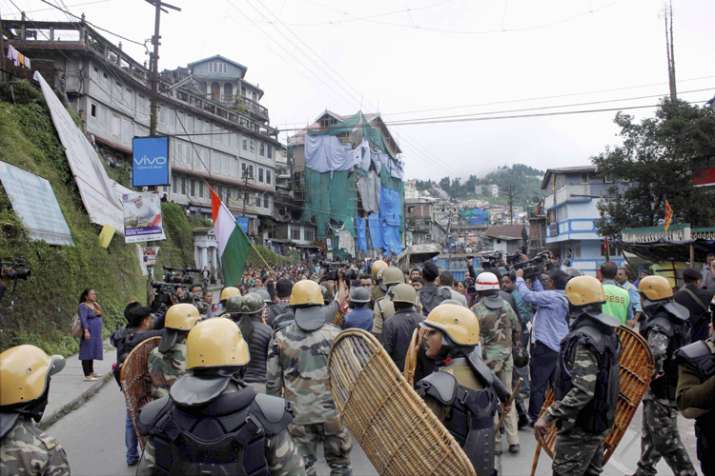 Even as the unrest continues in the Darjeeling hills, several parties in the region on Tuesday unanimously adopted a resolution in favour a separate state -- Gorkhaland. Pushing the agenda, parties, including the Gorkha Janamukti Morcha (GJM) and Gorkha National Liberation Front (GNLF), passed the resolution at an all-party meeting in Darjeeling. The move comes a day after GJM chief Bimal Gurung said he was in constant touch with the Centre and was hopeful that its ally the BJP will consider its demand for a separate Gorkhaland "compassionately". 
The GJM last week had called for a meeting of all hill parties. The meeting was attended by the GJM, the GNLF, the Gorkhaland Rajya Nirman Morcha, the Bharatiya Gorkha Parisangh (apolitical) and the Communist Party of Revolutionary Marxists. 
The GNLF, an ally of the ruling Trinamool Congress in the civic polls that took place last month, has emphasised the need for a separate state. Thirty years ago, the GNLF under Subhas Ghising was at the forefront of a violent movement in the hills for a separate state.
Two other parties from the hills, the All India Gorkha League (AIGL) and Jan Andolan Party (JAP) did not attend the meet, but their leaders expressed their support for a separate state. 
"We have unanimously decided to fight for the separate state of Gorkhaland. We have also adopted a resolution in favour of it. Now our fight will not stop until and unless Gorkhaland is achieved," GJM general secretary Roshan Giri said. 
Giri claimed that the BJP district leadership too attended the meeting. But, BJP national secretary Rahul Sinha said, "We are not aware of any of our leaders attending any kind of all-party meet in Darjeeling." 
GJM chief Gurung had yesterday warned West Bengal Chief Minister Mamata Banerjee to stay out of the hills and expressed hope that Centre would consider the demand for a separate state. 
"The government at the Centre is our ally and they will surely consider our demand compassionately," Gurung said. 
The BJP, he said, has always been in favour of small states. 
Meanwhile, the Centre dispatched 600 paramilitary personnel to assist the West Bengal government in restoring normalcy in violence-hit 
Darjeeling hills which witnessed incidents of stone pelting on the second day of GJM-sponsored indefinite bandh. 
The Centre also sought a detailed report on the prevailing situation in the hill district from the state government. 
The Army was deployed in restive Darjeeling town on June 8 after the GJM supporters clashed with the police, damaged police vehicles and set some of them ablaze as Banerjee held a cabinet meeting at the Raj Bhawan there