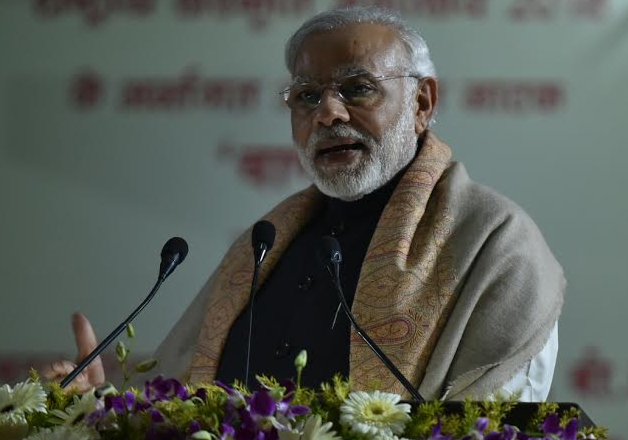 Prime Minister Narendra Modi today taunted Congress vice-president Rahul Gandhi using his 'earthquake' remark and said that he is 'happy that the leader has learnt how to deliver speeches'.
Speaking at an event in his Lok Sabha constituency of Varanasi today, Modi said that he was the happiest that the young leader had learnt to speak. 
"They (Congress) have a youth leader; he is learning how to speak. Since the time he has learnt how to speak, I am the happiest," the Prime Minister said. 
"In 2009, you couldn't even tell what is inside this packet. Now we are finding out. If he hasn't spoken, there would be an earthquake. It would have been such an earthquake that people would have to deal with it for 10 years. But good he spoke, there is no chance of an earthquake," he said here. 
The Prime Minister's reaction comes a day after Rahul accused him of receiving crores in kickbacks as chief minister of Gujarat from Sahara and Birla.
Attacking former Prime Minister Manmohan Singh, Modi said that 'poverty is Singh's legacy'.
"Manmohan Singh said that 50 per cent of India is poor, technology for cashless economy can't be fully implemented here. Was he stating his own report card or mine? I am surprised at this criticism that is coming from a man who has helmed the country's financial teams since 1970," he said. 
The PM also took on former Finance minister P Chidambaram over his criticism of the government. "The former Finance minister said 50 per cent of India's village has no power. Did I disconnect their connection? 50 per cent is your legacy, not mine. This is your report card not mine. I'm sorry to say my government is burdened with legacy of your policies."
The Prime Minister further called the notes ban a 'big cleanliness drive'.
"I never thought that some political parties and leaders would have the audacity to stand with the corrupt," he said, targeting the Congress for their constant opposition to the note ban drive.
The PM also likened Congress' obstruction in Parliament with "Pakistan's cover fire".  Targeting opposition for not allowing the Parliament to transact any business in the recently concluded Winter Session, Modi said: 
"The ruckus by opposition in Parliament over note ban is like the cover fire that Pakistan gives to terrorists."
"I never thought opposition leaders will side with the corrupt on the issue of demonetisation," he added.
The Prime Minister also took the opportunity to question the intention of political parties for doubting the Army's surgical strikes.
"When our soldiers went to the other side of the LoC and successfully conducted surgical strikes, some people still doubted it," he said.
Modi is on a day-long trip to Varanasi where he is to lay foundation stones of several projects and address Bharatiya Janata Party activists.