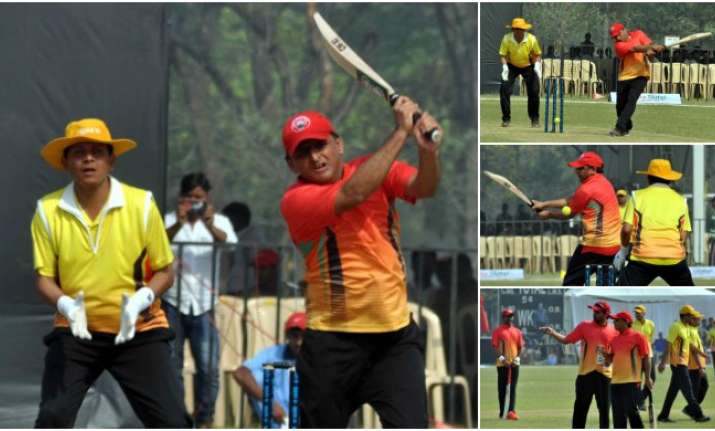 Lucknow: Criticism of the Indian Administrative Service (IAS) officers bowing to political pressure for fear or other considerations is not been new. Neither is tom-tomming the political boss's line in matters of importance.
However, top IAS officers of Uttar Pradesh appear to have taken this practice too seriously; in fact, even to the cricket field. It was on display when the IAS XI team took to the field against CM Akhilesh Yadav in a friendly T-20 game in Lucknow over the weekend.
No prizes for guessing but the IAS XI lost to CM Akhilesh Yadav. This was Team Akhilesh's fourth consecutive win in a row. Not taking anything from the CM's cricketing genius but the match did have its fair share of humour and never-seen-before moments.
Sample the following:
* Not one bowler from the IAS XI could bring Akhilesh's innings of 65 to a halt. The CM hit 11 boundaries and a six in his innings.
* The bowler who managed to pick the CM's wicket did not rejoice his achievement of having taken the wicket of their best batsman. Instead, he could be seen holding his head and covering his face as if he had committed the most unexpected error.
* The chase by the IAS XI was strong. At one stage, they needed only 3 runs from two overs. However, the batsmen somehow managed to give away their wickets and handed the match to the opposition.
"We tried really hard and fought well but the bowling improved in the last few overs. That's why the win slipped from between our fingers," chief secretary Alok Ranjan said after the loss which had somehow left him smiling.
Akhilesh, adjudged the man of the match for the fourth consecutive year (no surprises) appeared content with his victory.
"I will obviously thank my team for the win but would also like to thank chief secretary and his team. I hope we keep getting their support like this in the future," he said, probably hinting a jibe at the deliberate underperformance of his bureaucrats.