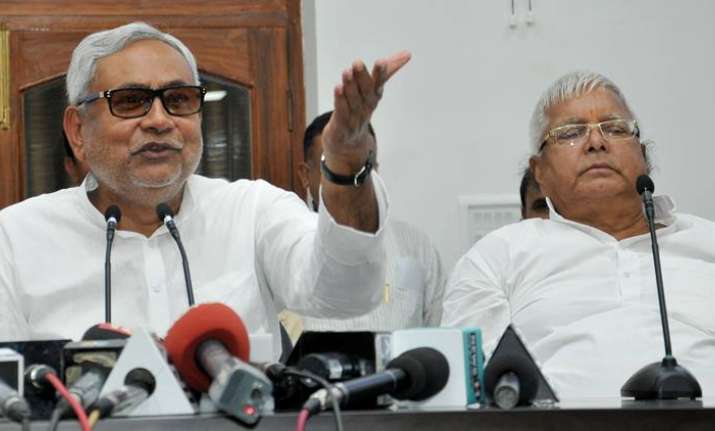 Bihar Chief Minister Nitish Kumar has cancelled his weekly Lok Samvad programme for today. The Chief Minister office, on Sunday, issued a statement citing ill health of Nitish as the reason for cancellation of the programme. 
However, the move has triggered speculation that he was avoiding the media in view of the recent CBI raids on the family of alliance partner Lalu Prasad Yadav.
A media report cited sources saying that Nitish is not just avoiding sharing space with deputy CM Tejashwi Yadav against whom a FIR has been lodged on charges of a amassing "benami" properties, but is also avoiding the media which has been trying to get a reaction from him on what will be his future course of action as far as continuance of Tejashwi in the cabinet is concerned after FIR was lodged against him.
Nitish has even decided to skip a meeting of 17 parties on Tuesday in Delhi. The Tuesday meeting, to be chaired by Congress President Sonia Gandhi, is intended to shortlist the likely nominee for Vice President who will be chosen next month (after the presidential election is completed on July 17). 
He, however, has convened a meeting of party MPs, MLAs, MLCs and district presidents on 11th of July at his residence to discuss the future course of action following CBI raids on Lalu and lodging of FIR against Tejashwi.
Nitish's decision to skip the crucial Opposition meeting is seen in the context of an increasingly friendly approach to both Prime Minister Narendra Modi and the BJP. He had similarly given a meeting to discuss the opposition presidential nominee a miss.
While Kumar has maintained a studied silence on the issue of raids on Lalu's family, another ally Congress has expressed solidarity with the RJD chief and accused the central BJP government of "misusing" the official machinery.
It is believed that Nitish is unhappy with the Congress' vocal support for Lalu Yadav, whose residence was raided on Friday as part of a CBI investigation that accuses him of corruption. 
Noticeably, in 2008, it was Nitish's party that had first accused Lalu Yadav of the charges that are now being investigated by the CBI. At that time, Nitish and Lalu were fierce rivals who later combined with the Congress after Nitish Kumar ended a 17-year alliance with the BJP when it chose Narendra Modi as its presumptive Prime Minister.