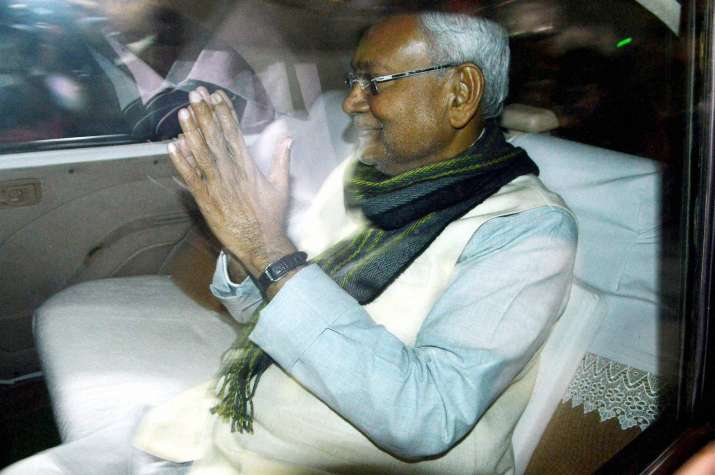 Bihar Chief Minister Nitish Kumar today attended RJD Parliamentary party meeting and briefed the party MLAs in presence of its chief Lalu Prasad Yadav on why he supported Prime Minister Narendra Modi's decision to demonetise Rs 500 and Rs 1000 notes.
His move came after senior BJP leader Sushil Kumar Modi asked Nitish, who is also the president of JD(U), to sever ties with RJD and Congress due to opposing views on demonetisation.
Nitish arrived at the RJD Parliamentary party meeting being held at residence of Rabri Devi. Party chief Lalu Prasad was present in the meeting along with his Deputy CM son Tejaswi Yadav. 
Some RJD MLAs requesting anonymity said that CM gave his version on why he supported the demonetisation move in-principle but also criticised poor arrangements made for its implementation. 
Nitish also trashed media reports of his meeting BJP chief Amit Shah and talking to PM over phone as basis of his support to demonetisation of currencies. 
He urged RJD Legislators not to be influenced by "baseless" news in a section of the media following his principled stand on demonetisation. 
Nitish Kumar's visit to RJD Parliamentary party meeting holds significance as BJP was attempting to create a wedge in the ruling alliance over the issue of demonetisation. 
Sushil Kumar Modi, who once served as Nitish's deputy in Bihar, asked him to review ties with RJD and Congress and said his party would consider any proposal of realignment from JD(U). 
Meanwhile, former Chief Minister and RJD chief Lalu Prasad's wife Rabri Devi took a swipe at Sushil Modi for his comments. 
"If (Sushil) Modi wants he can take Kumar home on his lap," she told reporters emerging from the Legislative Council after it adjourned for the day. 
Kumar had led JD(U) to severe ties with BJP in June 2013 after 17 years over elevation of Narendra Modi as PM candidate. He joined hands with RJD and Congress before the Bihar polls last year and romped back to power. 
The Lok Janshakti Party (LJP) chief and Union Minister Ram Vilas Paswan  today said the coalition government in Bihar will not run for long. 
Paswan, who thanked Kumar for welcoming the Centre's demonetisation, said that the government in Bihar was "under pressure". 
Nitish Kumar has supported demonetisation move and his party JD(U) also stayed away from yesterday's nationwide strike against the Centre's decision, called by the opposition parties, which its alliance partners RJD and Congress supported by taking to the streets.