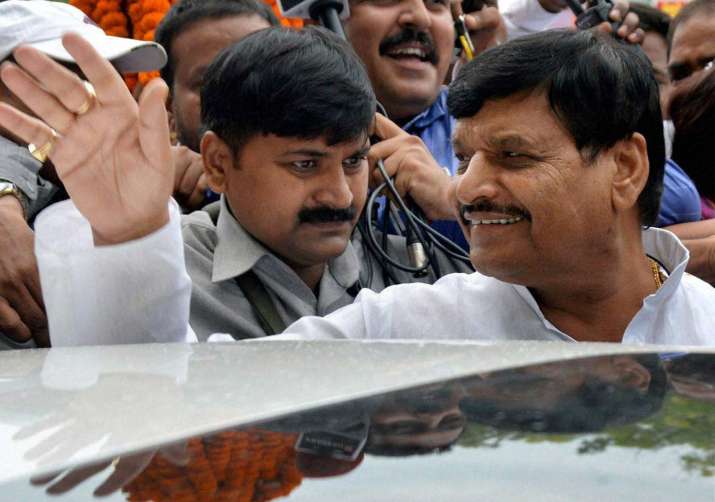 In a fresh twist to the deepening feud in Mulayam Singh Yadav's family, his brother Shivpal Singh Yadav on Thursday tendered his resignation as the Samajwadi Party's (SP) state unit head and also as a minister in the cabinet of nephew Akhilesh Yadav, with whom he is at loggerheads.
However, CM Akhilesh Yadav has reportedly refused to accept his uncle's resignation from the government. His resignation of party posts is pending before SP supremeo Mulayam who has reportedly refused to accept it, sources informed.
Shivpal submitted his resignation from both the posts to Mulayam, who rushed to Lucknow from Delhi on Thursday evening to douse the flames that threaten to hurt the ruling party in the Assembly polls due early next year, sources said.
Shivpal's wife Sarla also gave resignation as a District Cooperative Bank Chairperson, Etawah, and son Aditya gave resignation as Chairman of Pradeshik Cooperative Federation, the sources added.
Just after the resignation, supporters of Shivpal Yadav gathered outside his residence in Lucknow and raised high-pitched slogans. 
Earlier, as the first family of Uttar Pradesh battled an open war within, Mulayam Singh rushed to Lucknow and met Shivpal and Akhilesh separately to douse the flames. 
As soon as he reached here, the SP summoned Shivpal and held closed door meeting with him. 
Shivpal later met Akhilesh at his official residence, sources said, adding the meeting came at the behest of Mulayam. 
Immediately thereafter, Mulayam met his Chief Minister son Akhilesh, the sources said. 
Earlier, Mulayam had hinted that Shivpal may leave Akhilesh Cabinet when he told India TV that his brother will remain in the party and not join Akhilesh's Cabinet again.
The Mulayam family has been dogged by serious differences but matters reached a flash point on Tuesday after Chief Minister shunted out Chief Secretary Deepak Singhal, considered as his uncle Shivpal Yadav's favourite.  
In a tit-for-tat action, Mulayam took away the post of UP Samajwadi Party chief from his son Akhilesh, perhaps to smooth the ruffled feathers of Shivpal. 
But, within hours a peeved chief minister hit back by clipping his uncle's wings by divesting him of his key PWD, Irrigation and Cooperative portfolios.
Today, in a media conference at his residence in Lucknow, Shivpal had asserted that the party is not in any kind of trouble and added that he will not challenge Akhilesh Yadav's decision to strip him of all key portfolios in the state cabinet as it is his prerogative. 
Yesterday, Mulayam's cousin and SP's national general secretary Ram Gopal Yadav, who is seen as backing the Chief Minister, said the leadership had committed an unintentional "mistake" by removing Akhilesh as party's UP president. 
Ram Gopal, who had met the Chief Minister, said the "differences" had arisen due to some "misunderstanding". 
He blamed "outsiders" for the crisis, an apparent reference to Amar Singh who recently returned to the party after a number of years. 
He claimed that "Akhilesh is not angry with anyone and the decision of netaji (Mulayam) is final in the party." 
The same was said by Shivpal at his press conference. The feud had spilled into the open after the Chief Minister stripped Shivpal of key ministerial portfolios two 
days back, hours after he was replaced with Shivpal as the party's state unit chief by his father. 
"Differences do take place on some minor point and they can be resolved.... The leadership, though not deliberately, had made a mistake when CM was removed from the post of (state) president (of SP)," Ram Gopal told reporters. 
When asked about the Chief Minister's statement regarding role of "outsiders" in the family tussle, Ram Gopal said, "There is a general perception in party workers, leaders and people about this...". 
Amar Singh, who was expelled from the party in 2010, rejoined the SP recently. 
Cabinet Minister Azam Khan also took a swipe at his bete-noir Amar Singh, though he refrained from naming him, and said the Chief Minister was right in his assessment. 
"If the Chief Minister is saying it, he must be right as he is in a responsible position. We had such apprehensions and that is why we had strongly opposed the return of such people who had a black history. Their only job is to make recordings and blackmail," he said. 
Party's Rajya Sabha MP Naresh Agarwal said "if there is any outsider, who is interfering, he should stop immediately." 
He asserted that Akhilesh will be the Chief Ministerial candidate of Samajwadi Party in the upcoming Assembly elections in Uttar Pradesh. 
Targeting Amar Singh without naming him, Ram Gopal said that due to "simplicity" of Mulayam, "those who have nothing to do with party's interest are able to take benefit". 
"They harm the party.... All those who met me are saying so," he said. 
"He is the same person, who used netaji's simplicity to make an incharge of the party (Shivpal was earlier made SP UP incharge). There is no such post in SP. They say you are being challenged.....There is no one in the party who can challenge netaji," Ram Gopal said. 
Shivpal, on the other hand, defended Amar Singh saying an organisation is strengthened by taking everyone along. 
Asked about other SP leaders' "unhappiness" with Amar Singh, he said, "Taking everyone along makes an organisation stronger. There are all kinds of people in a party. One has to apply his mind also." 
Amid the opposition to the manner of his appointment as state unit chief, he said, "I was state president in 2011 and now netaji (Mulayam) has once again given me this responsibility. No one has the capacity to disobey what he says." 
His reaction came after Ram Gopal said, "He (Akhilesh) should have been asked to resign and he would have tendered it. He could have been told that elections are coming and you continue as CM and the work of state president will be taken care of by him (Shivpal)." 
(With PTI inputs)