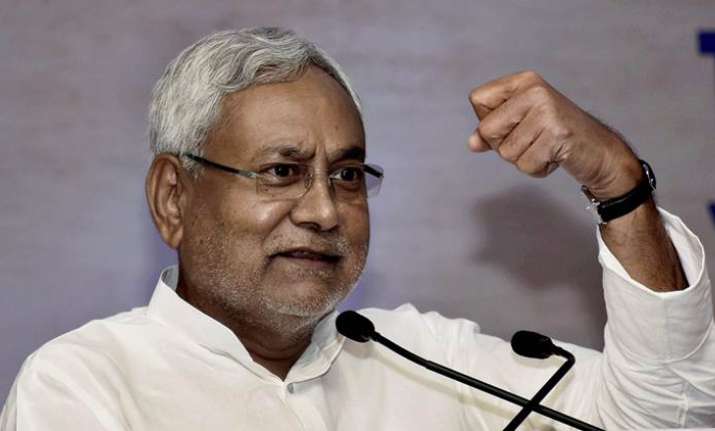 Continuing his criticism of Congress, Bihar Chief Minister Nitish Kumar today said that "an alternate narrative" is needed for the next general election as a mere "reactive narrative" was not helping the Opposition in countering the Narendra Modi-led government. 
"The Opposition must have an agenda and the Congress is a big party. It is its job to set the agenda, an alternative narrative, a narrative that isn't reactive," he said.
Nitish Kumar also categorically ruled out any aspirations to be the Opposition's face for Prime Minister in 2019. "I am not the PM face of opposition in 2019, neither am I eligible," he said. 
He also denied reports of any crack in the 'Grand Alliance' between Congress and JD(U) in Bihar. "What i said during party meeting yesterday was in a particular context, don't interpret it differently. There is no threat to Mahagathbandhan," he said.

 

He did add though that opposition parties should have come out with an alternative narrative against the Modi government at the Centre, and that Congress, being the biggest party, should lead from the front. 
Speaking to reporters in the state capital, Nitish reiterated his support to the GST. Nitish said, "We have always supported GST. It will bring transparency to the system. It's a reform, minor issues might crop up in the beginning but nothing that cannot be ironed out. There is no point in asking me why I did not attend it as I was not invited to the midnight GST event at the parliament".
Nitish's statement comes at a time when opposition parties, including both his allies in the state – RJD and Congress – are on an offensive against the government over the haphazard launch of the GST. 
Taking a dig at Rahul Gandhi, Nitish said, "We have forgotten the farmer issue, many within the Congress and Opposition admit in private that issues like demonetisation etc. does not work against the BJP government."
Yesterday, the Bihar CM had lashed out at the Congress, alleging that the grand old party was responsible for the current mess in the Opposition. "The idea of a Sangh-mukt Bharat cannot fructify without taking all Opposition parties into confidence. The Congress alone is to blame for the current mess in the Opposition fold…," he said. 
Nitish also said that it was because of the Congress that they could not have an alliance in Uttar Pradesh and Assam, and that it "did not take us into confidence during the presidential polls as well".