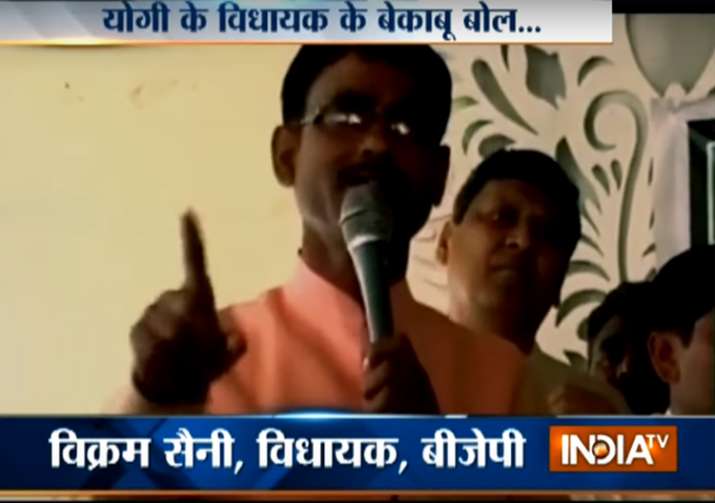 Even as Uttar Pradesh Chief Minister Aditya Nath Yogi sounded a word of caution to the excited party workers, an MLA from the BJP has threatened to break the limbs of those who kill and disrespect cows.
Khatauli MLA Vikram Saini, an accused in the 2013 Muzaffarnagar riots case, said a public function, "I had promised that I would break the hands and legs of those who hesitate in saying 'Vande Matram', those who feel pain in saying 'Bharat mata ki jai' and also those who do not consider cow as their mother and kill them." 
"We are ready to fulfil the promise. We have a team of youth activists to take action" against such persons," Saini, who was once detained under the National Security Act, said. 
He was speaking at a function to felicitate UP Minister Suresh Rana here yesterday where Union Minister Sanjeev Balyan was also present. 
Defending the MLA from his parry, Rana, a controversial figure himself, said, "He only meant to warn people who indulge in anti-social activities. He said that now Yogi ji is the Chief Minister nobody needs to take law into their own hands and break  the limbs."
The remarks come at a time when Yogi himself has taken a tough stance on cow smuggling and slaughter. He has directed that the ban on cow smuggling be enforced and action taken against illegal abattoirs.
The chief minister had yesterday made it clear that abattoirs operating legally will not be touched.
"The illegal abattoirs would be closed down," he had said while addressing a civic reception in Gorakhpur.
He has also warn his party workers against taking law in their own hands. 
"The BJP's electoral win in Uttar Pradesh has undoubtedly been an unprecedented one. But, care should be taken to ensure that no party worker takes law in his own hand. 'Josh mein hosh naa khoye' (don't lose sense in excitement). 
"Your over-excitement may give an opportunity to the anti-social elements to take advantage and they may again vitiate the atmosphere," he said in his home town of Gorakhpur yesterday.