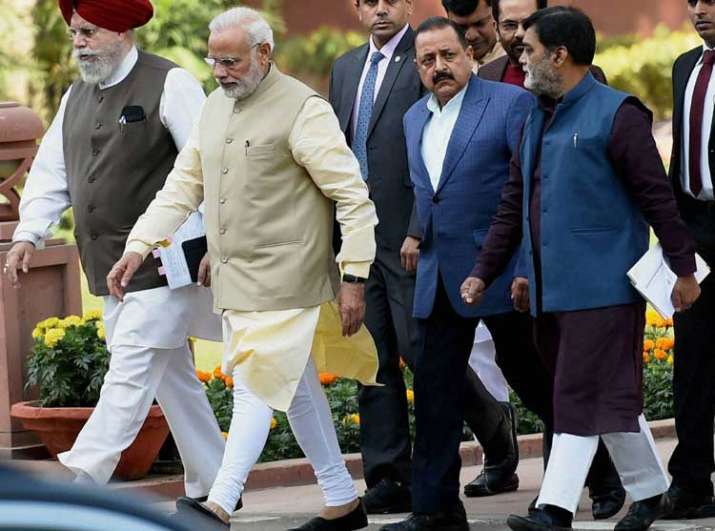 With no end to the deadlock over demonetisation issue for seventh consecutive day in Parliament, Prime Minister Narendra Modi is likely to be present in the Rajya Sabha today.
A united opposition has been relentless in its demand seeking the presence of PM Modi in Rajya Sabha. The government has so far rejected the demand that the PM reply to the debate in the House, insisting that Finance Minister Arun Jaitley will reply to the debate.
Modi was in Lok Sabha on Wednesday and the government said it was ready to discuss demonetization. The Home Minister will meet all party floor leaders today at 10 AM  to break the logjam in Parliament. Meanwhile, Union minister Arun Jaitley, Rajnath Singh and Ananth Kumar yesterday held discussions with leaders of other parties for the same.
Top government sources today confirmed that the PM will be present in the Upper House tomorrow and may even sit through post 2 PM depending upon the mood of the House. However, the reply to the debate will only come from FM Jaitley, while the PM will only intervene.
A lot will depend on the outcome of meeting called by  Rajnath Singh with floor leaders of all political parties tomorrow at 10 am on the Parliament deadlock. Arun Jaitley and Anant Kumar will also be present at the meeting, the sources said. 
Earlier, around 200 MPs formed a giant human chain outside the Parliament raising slogans and carrying placards demanding Prime Minister Narendra Modi's presence in the House.
On the other hand, Lok Sabha Speaker Sumitra Mahajan disallowed the adjournment motion notices by opposition parties for a debate on demonetisation, amid huge uproar from opposition benches. The pandemonium saw the house being adjourned for the day. Most opposition members demanded that the debate should take place under adjournment motion, even as Biju Janata Dal and Telangana Rashtra Samiti (TRS) said they have not given adjournment notices.
The deadlock continues as the government has also refused to debate the notes ban with a vote at the end of the discussion in the Lok Sabha
Opposition parties have protested in Parliament and outside demanding that the PM address Parliament on the notes ban and its impact on people who have had to line up for days at banks for money amid a cash crunch after the demonetization.