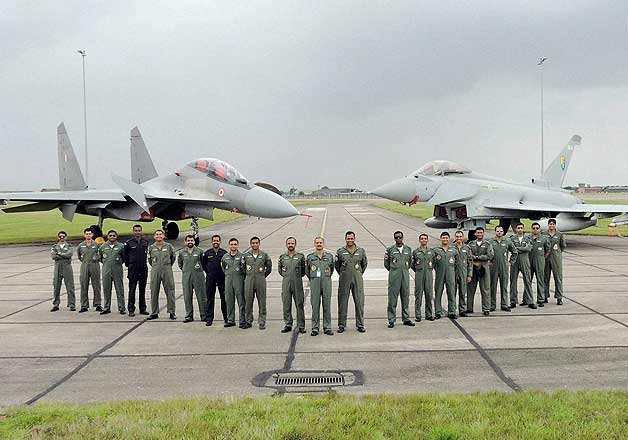 New Delhi:The pride of Indian Air Force(IAF) Sukhoi Su-30 MKI was pitted against one of the most advanced figter aircraft the Eurofighter Typhoon of Royal Air Force( RAF) in England.  
A contingent of Indian air force was on a ten day joint military exercise which was named 'Exercise Indradhanush'.
The highlight of the exercise was the 2 versus one formation in which two Eurofighter jets  were pitted against a single Sukhoi and amazingly the IAF jet emerged victorious in the exercise.
 
In the exercise different elements of the IAF contingent operated from separate RAF bases - the Sukhois from Corningsby, combat support elements from Brize Norton and the Garud Special Forces from Hunnington.
 
The IAF team has flown combat training missions along with RAF, involving contemporary tactics.
 
The two air forces also operate common combat support platforms, namely the Globemaster and the Super Hercules in the exercise.
 
"Mutual exchange of ideas as regards operational philosophy for tactical and strategic missions has provided invaluable learning for both sides. The IAF Garud regiment of Special Forces is operating with the RAF regiment in various aspects of training.
 
The troops practised various missions in urban warfare which also included combat missions in a near-realistic scenario," the statement added.
 
It was fourth such exercise between both the countries. The aim of the exercise was  to enhance mutual operational understanding between the two Air Forces.
 
Su-30 MKI operated  with the UK Royal Air Force (RAF) at Coningsby, the Transport aircraft was  hosted at Brize Norton and GARUD Special Forces was  hosted at Honington.
 
During the exercise, the Su-30MKI and Typhoon aircraft, one of the contenders of India's multi-billion medium multi- role combat aircraft, operated in mixed formations under various near-realistic scenarios.
 
The GARUDS and their RAF counterparts carried out paradrops and other various tasks in the training area, an official statement said.
 
It was also for the first time that  Royal Air Force got a  chance to train against the Russian-designed Su-30, arguably the finest fourth generation fighter aircraft in the world. During the first week the two fighter aircraft were involved in a aerial dogfigt scenarios.
 
 
After that the exercise progressed on to the next level with two Su-30s taking on two Eurofighters.
 
( With PTI Inputs)