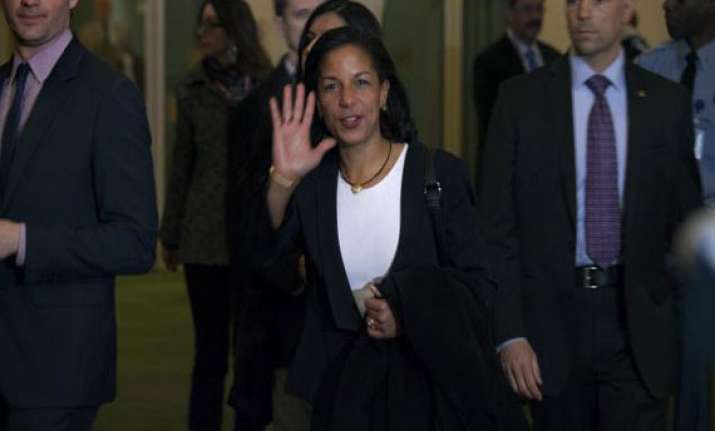 Washington, Dec 14: Susan Rice, the embattled U.N. ambassador, abruptly withdrew from consideration to be the next secretary of state on Thursday after a bitter, weeks-long standoff with Republican Senators who declared they would fight to defeat her nomination.
The reluctant announcement makes Massachusetts Senator John Kerry the likely choice to be the nation's next top diplomat when Hillary Rodham Clinton departs soon. Ms. Rice withdrew when it became clear her political troubles were not going away, and support inside the White House for her potential nomination had been waning in recent days, administration officials said.
Ms. Rice had become the face of the bungled administration account of what happened in Benghazi, Libya, on September 11, 2012 when four Americans, including the U.S. ambassador to Libya, were killed in what is now known to have been a terrorist attack.
In another major part of the upcoming Cabinet shake-up for President Barack Obama's second term, former Republican Senator Chuck Hagel of Nebraska now is seen as the front-runner to be Defence Secretary, with official word expected as soon as next week.
For the newly re-elected President, Ms. Rice's withdrawal was a sharp political setback and a sign of the difficulties Mr. Obama faces in a time of divided and divisive government. Already, he had been privately weighing whether picking Ms. Rice would cost him political capital he would need on later votes.
When Ms. Rice ended the embarrassment by stepping aside, Mr. Obama used the occasion to criticise Republicans who were adamantly opposed to her possible nomination.
"While I deeply regret the unfair and misleading attacks on Susan Rice in recent weeks, her decision demonstrates the strength of her character," he said.
"I am saddened we have reached this point," Ms. Rice said.
Mr. Obama made clear she would remain in his inner circle, saying he was grateful she would stay as "our ambassador at the United Nations and a key member of my Cabinet and national security team." Rice, too, said in her letter she would be staying.
Ms. Clinton, in a brief statement, said Ms. Rice had "been an indispensable partner over the past four years" and that she was confident "that she will continue to represent the United States with strength and skill."
Mr. Obama had defiantly declared he would choose her for Secretary of State regardless of the political criticism, if he wanted, but such a choice could have gotten his second term off to a turbulent start with Congress.
In a letter to Mr. Obama, Ms. Rice said she was convinced the confirmation process would be "lengthy, disruptive and costly." The letter was part of a media rollout aimed at upholding her reputation. It included an NBC News interview in which she said her withdrawal "was the best thing for our country."
Ms. Rice may end up close to Mr. Obama's side in another way, as his national security adviser should Tom Donilon move on to another position, though that is not expected imminently. The security adviser position would not require Senate confirmation.