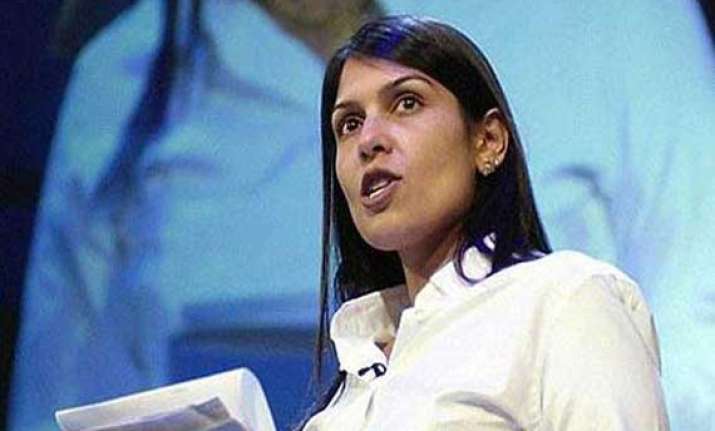 London: An ardent fan of Indian Prime Minister Narendra Modi has became the treasury minister in the British government.
Priti Patel, 42, Conservative MP from Witham, was promoted by Prime Minister David Cameron in the cabinet reshuffle. Patel is Cameron's 'India Diaspora Champion' and accompanied him in his India trips, according to Asian Lite, a newspaper that targets Asian in the UK.
She is one of the "big winners" in the reshuffle, moving up from a Downing Street policy board to the middle-ranking ministerial position of exchequer secretary dealing with tax policies, the paper said.
It's the first government job for the Essex MP who was first elected in 2010. Patel has a history of supporting campaigns for small businesses, transport infrastructure investment and affordable homes.
Patel worked a press officer for Hague when he was Conservative leader. Before that she worked for the anti-EU Referendum Party. She also chairs the all-party parliamentary small shops group.
Patel's parents used to run a rural post office in Norfolk. Born in the London borough of Harrow, she became the Conservatives' first female Asian MP when she won her Essex seat in 2010.
After entering Westminster in 2010 Patel has sat on the Tory party's 1922 committee of backbench MPs, and joined the Number 10 policy board last year.She studied economics at Keele University, is married, with a five-year-old son.
She met Modi during when a high-level British government delegation led by Secretary of State William Hague and Chancellor of the Exchequer George Osborne toured India last month.
A staunch supporter of Indo-UK friendship. she wrote in an exclusive article for Asian Lite: "The natural ongoing bonds that exist between the UK and India are what makes the foundation of this partnership so strong.
And as long-term prosperity is at the heart of both the UK's and India's foreign policy, the success of our latest official visit confirms that the future of our partnership is stronger than ever before.
Not only do we wish Prime Minister Modi well in his programme of reform and in his mission to bring real change for all Indian's across India, but we are proud to call him our friend and we look forward to supporting him as he endeavours to create a new, more inclusive and prosperous India."