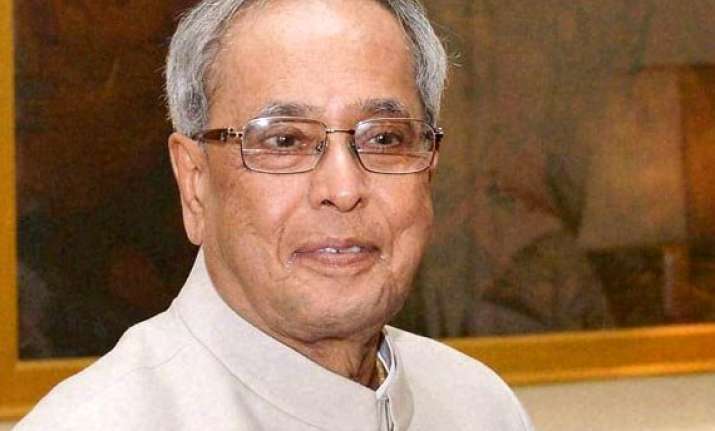 Oslo: President Pranab Mukherjee today refrained from making any comment on the Indo-Pakistan relations and said the President of India does not make any observations on any "political or controversial issues".
Asked by reporters whether giving Nobel Peace Prize to Malala Yousafzai of Pakistan and Kailash Satyarthi of India would in anyway help resolve the conflict between the two countries, he said, "In Indian Constitution, the President does not make any comments on such issues."
He said these questions could be kept in reserve for the Foreign Minister of India. "The President does not make any observations on political or controversial issues," he said. Lauding the role of Malala, Mukherjee, who is here on a two-day state visit, said that her "courage and indomitable spirit" is encouraging and shows way that a girl can fight for her right to education in difficult circumstances like her's.
Earlier, in his interview on the eve of beginning of his state visit to Norway, the President was asked to react on a statement made by Malala about inviting Prime Ministers of India and Pakistan to the award ceremony.
ALSO READ: Hardly any Indian Muslim indulges in terrorism: Pranab Mukherjee
"Constitutionally, the Indian President is above day to day politics...So, what the leaders should do or not do, I leave it to them. I would not like to make any comment," he said in media interviews to a TV channel and a leading newspaper.
The President was full of praise for Malala whom he described as a young girl who represents courage and indomitable spirit which is the driving force of civilization.
"I don't know from where she got this courage and conviction but she has stayed true to her conviction and risked her life, she did not deviate from her mission even a single millimetre. I am happy that her service and fighting spirit to liberate women and educate them has been recognized by Nobel Peace Committee," he said.
He also lauded the efforts of Satyarthi who shares the Nobel prize with Malala, saying he has been recognised by various organisations for his activities against child labour for quite some time.
"He is known for not only building an awareness campaign but also setting up institutional arrangements through which he got them freed from work, gave them education and later, helped them establish themselves in life," Mukherjee said.