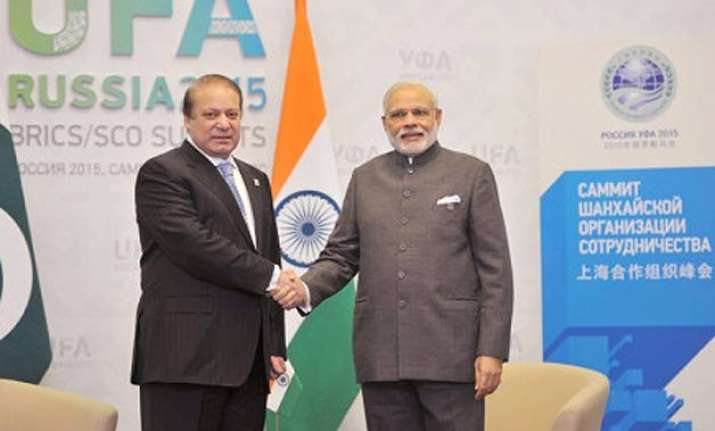 Islamabad:  Amid differing voices emanating from Pakistan over resuming talks with India, Pakistan today said it is committed to the decisions taken in Ufa to lower tension even as it asserted that Kashmir is a "disputed territory" and no unilateral action can change its status.  
"Pakistan is committed to the decisions agreed at Ufa between the Prime Ministers," Foreign Office spokesperson Qazi Khalilullah said while addressing a weekly briefing here.  Khalilullah said it was decided at a meeting between Prime Minister Nawaz Sharif and his Indian counterpart Narendra Modi in Ufa, Russia that the relevant officials will meet to discuss the issue.
During their meeting, the two leaders agreed that the existing mechanism of regular meetings between DG Rangers, DG BSFs and DG MOs should be held to ensure full compliance with the 2003 Ceasefire Understanding.
Khalilullah comments came amid a blame game between the two countries over shooting down of an alleged spy drone and ceasefire violation at the Line of Control (LoC).  
While India lodged protest with Pakistan both in New Delhi and in Islamabad, the Pakistan Foreign Office summoned Indian High Commissioner and lodged strong protest over "air space violation" by an alleged Indian "spy" drone near the Line of Control and "ceasefire violation".  
Pakistan Army yesterday claimed that the Indian drone was being used for aerial photography near the LoC in Bhimber area of Pakistan occupied Kashmir (PoK) and was "brought down for violation of Pakistan's territorial integrity".  
Talking about the firing across the LoC and ceasefire violations, the spokesperson said that peace and tranquility on the Line of Control and the Working Boundary is in interest of both nations.
He said that ceasefire violation will not affect the planned meetings as it was in the past, the two sides met from time to time despite LoC tension.
On Monday, Pakistan Prime Minister's Adviser on National Security and Foreign Affairs Sartaj Aziz had said "no dialogue will take place with India unless Kashmir issue is included in the agenda."
Aziz had also asked India to provide "more evidence and information" on the Mumbai attack case.  Reacting to Aziz's statement, India had said that it will go by the spirit of the joint statement that laid out a roadmap for restarting the dialogue process after talks between Modi and Sharif.
At the briefing, Khalilullah rejected Indian High Commissioner's remarks that 'part of Kashmir was under illegal occupation of Pakistan' and said Kashmir was a disputed territory and no unilateral action can change its status.
 
Khalilullah said Pakistan wants to resolve all issues with India through talks and Kashmir would be part of the agenda whenever the talks are held.