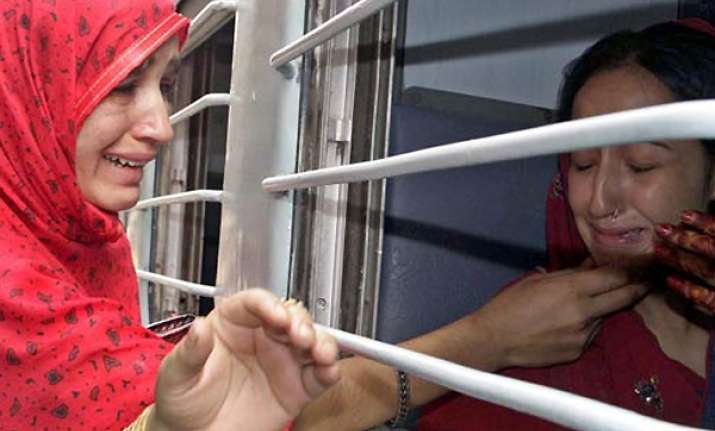 Lahore/Islamabad, Aug 10: A group of some 250 Pakistani Hindus were today allowed to cross over to India for a pilgrimage after being detained at the Wagah land border crossing due to a controversy over reports that they planned to migrate to the neighbouring country.
The Hindus protested at the Wagah border crossing after they were detained for almost seven hours.
Immigration authorities finally allowed the Hindus to cross the frontier at about 2.30 pm.
"We were given the go-ahead from the Interior Minister to allow about 250 Hindus to travel to India. They all have valid travel documents," a senior official of the Federal Investigation Agency in Lahore told PTI.
"The Hindus have 33-day visas for different Indian cities.  We stopped them temporarily after media reports said they would not return because of some problems they were facing here," the official said.
The FIA sent a special team to Wagah to interview the Hindus.
"The Hindus dismissed media reports about them and assured the team that they would not speak against Pakistan in India," the official said.
The official said the team had not asked the Hindus to provide any sort of undertaking. "They promised not to defame Pakistan," he said.
Though the Hindus gathered at the border crossing at 8 am, only two doctors and their families were initially allowed to cross to India.
Both doctors had "no-objection certificates" and authorities had earlier said they would only allow people with NOCs to cross the border.
The kidnapping of a teenage Hindu girl, Manisha Kumari, from Jacobabad city of Sindh province on August 7 had sparked widespread concern in the minority community amidst reports of an exodus of some 250 Hindus from the region.  Confusion surrounded the travel plans of the Hindus from Sindh and Balochistan.
Some TV news channels reported they had decided to migrate to India because of forced conversions, extortion and kidnapping.
The Hindus were travelling to India on visas for a pilgrimage to Haridwar and Vaishno Devi but many were not expected to return, the channels claimed.
However, many of the Hindus told the media at Lahore railway station yesterday that they had no intention of migrating and that they planned to return to Pakistan after a pilgrimage.
Taking notice of the media reports, Interior Minister Rehman Malik had said yesterday that the Hindus would be allowed to travel only after a probe by the FIA. 
Malik claimed the reports of the migration of the Hindus were part of a "conspiracy to defame Pakistan".  Media reports from Jacobabad said seven Hindu families comprising 90 people had decided to move to India for good. 
"We are businessmen but have been compelled to leave our motherland because of harassment, lawlessness, looting, kidnapping of girls and their forced conversion to Islam," said Amesh Kumar of Bakhshapur area in Jacobabad. 
There were also reports that 52 Hindu families from Jacobabad had migrated to India about six months ago. 
Sindh Chief Minister Qaim Ali Shah too took notice of the reports of the migration of Hindus and formed a three-member committee of provincial ministers to assess the situation in Jacobabad and submit a report.
The Hindu General Punchayat's chief Babu Mahesh Kumar Lakhani said lawlessness had compelled members of his community to migrate. He said Hindu girls were being kidnapped and people were facing excesses but nobody cared about them.  He alleged that elected representatives belonging to the minorities were not bothered about their problems. 
Babu Mahesh said Sindh was the land of love and affection and nobody wanted to leave it, but the members of his community had been forced to take the decision because of difficult conditions, especially insecurity.  He said some people had made their lives hell but the government was not taking action. He said more families would migrate if security was not provided to the community. 
Social activist Burj Lal said those going to India included youths who wanted to take the ashes of their deceased relatives to the Ganges.  He said many families had migrated to India from Jacobabad by road. 
However, Jacobabad SSP Muhammad Younus Chandio claimed that complete security was being provided to the community in the district.
He said the families were not migrating but they were going to India to perform religious rites and they would return soon. 
"Pakistan is our homeland and at the moment we are going to India for visiting our sacred places. But if I find the situation in India better than in Pakistan I will prefer to settle there and others also think the same way," a man who had arrived from Quetta on Thursday told Dawn at Lahore railway station.  He was among seven people who had come with heavy luggage.
The visibly tense garment trader said most of the Hindu families in Quetta, Jacobabad and some remote areas of Sindh were scared after their relatives had been kidnapped for ransom or looted in various incidents.  "The situation is worsening but the government is not taking any step to protect Hindus."
He said he and others had been given a one-month visa by the Indian High Commission to visit Amritsar, Dehli and some other cities.
"But if we find a good atmosphere there we will try to settle there," he said.  Another 257 members of the community arrived in Lahore by trains and buses.
They are staying at the Sikh community's Gurdawara Dera Sahib and Singh Sanghiani temples and in various hotels near the station.
Ganesh Das, a pilgrim, said he would never think of leaving Pakistan.
"I am just going to visit our religious places," he added.  Several other people staying at the gurdawara, including Rahul Badami, Vanesh, Alooman, Automal, Kamal and Pooja, also said they were going to visit religious places and would return to Pakistan after one month.
Meanwhile, the Evacuee Trust Property Board has made special arrangements for the pilgrims at Gurdawara Dera Sahib. 
ETPB Deputy Secretary (Shrines) Azhar Sulehri said the pilgrims had no plan to leave Pakistan permanently.  He said the Indian High Commission had issued visas to 257 Hindus who were going via Wagah border on Friday.