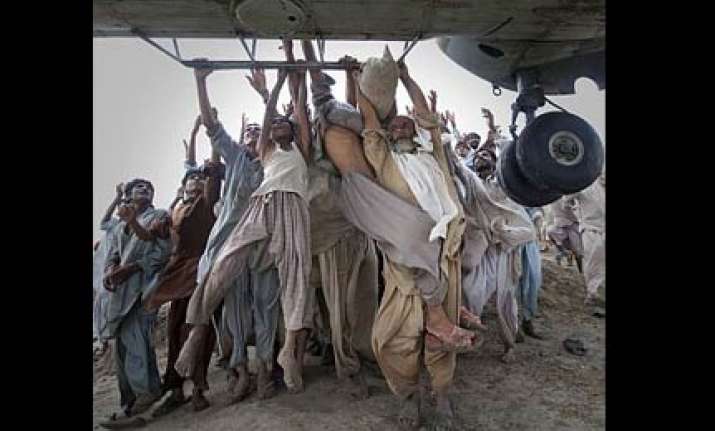 The flood situation in Pakistan continues to be grim.
Thousands of residents are evacuating Muzaffargarh city in Pakistan's Punjab province after local authorities issued an urgent flood warning.
Flood warnings were played out from loudspeakers of mosques in the city throughout the day after water in the nearby Ringpur Canal reached alarming levels.
'The situation is very serious. We are totally helpless. That's why we asked people to move to a safer place,' The Daily Times quoted Farasat Iqbal, local official, as saying.
Washington has provided an additional $35 million in financial aid to the $7.5 million that was already designated to assist people in the affected area, as well as food, shelter, medical supplies and other vital items. The funding is being provided by the US Agency for International Development to established international and Pakistani relief organisations with substantial experience on the ground in the affected areas.
In addition, 436,000 halal meals, 12 pre-fabricated bridges, 14 rescue boats, 6 large scale water filtration units and a 25kw generator have been delivered to support flood relief efforts. US helicopters are supporting rescue efforts and have saved more than 1000 to date.