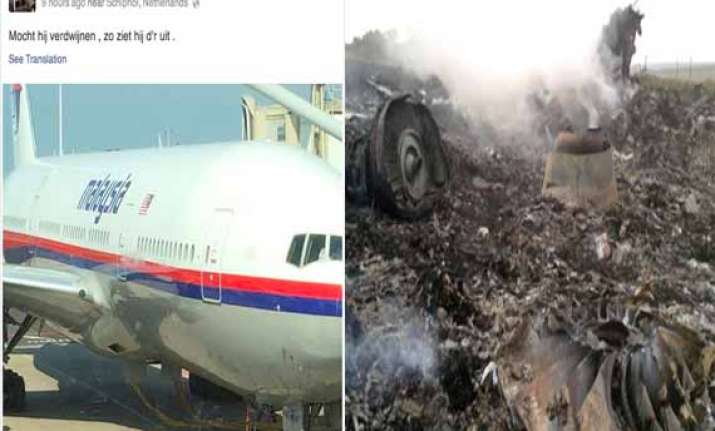 New Delhi: A haunting photograph of flight MH17 is believed to have been posted on Facebook by a Dutch passenger just moments before he boarded the doomed plane.
The plane, pictured on tarmac, took off from Amsterdam's Schiphol Airport at lunchtime today.
It was shot down hours later on the Russia-Ukraine border in an 'act of terrorism', killing all 295 people on board.
The joke, referencing the Malaysia Airlines MH 370 flight that disappeared in March, drew many amused responses.
After seeing the photo friends initially went along with the joke and wished him a good trip, but their messages quickly turned frantic when news of the crash emerged.
But hours later, when news broke about a Malaysia Airlines plane traveling from Amsterdam to Kuala Lumpur has been shot down, friends started showing concern.
Posting underneath the picture they asked whether his flight was the one that had gone down and said that they were praying that it wasn't true.
Late on Thursday his picture had been shared more than 10,000 times on Facebook.
The post is also viral on twitter, a chilling twist to the tragedy.
Nearly 300 passengers and crew members died after the plane was shot down by what US officials say was a surface-to-air missile.