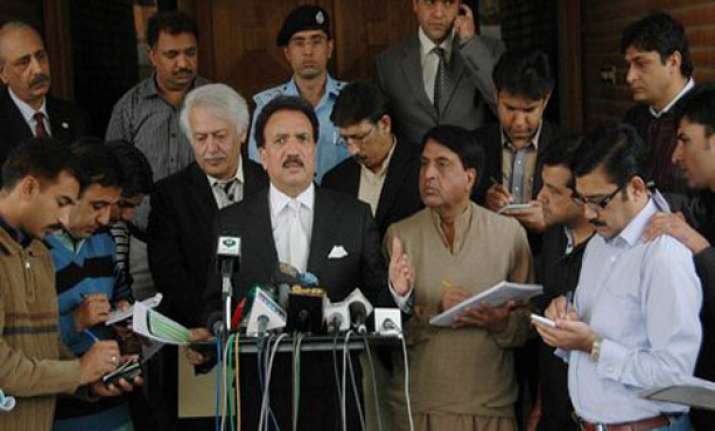 New Delhi, Dec 15 : India and Pakistan Friday made operational a liberalized visa regime as Interior Minister Rehman Malik said Islamabad's "journey to peace" with New Delhi was firmly on track.
The visa regime announcement was made after talks between Rehman Malik and Indian Home Minister Sushilkumar Shinde shortly after the former began a three-day visit to India.
But even while preaching peace with India, he made discordant voices. He dismissed Indian charges that Pakistanis had tortured and mutilated Indian soldier Saurab Kalia during the 1999 Kargil conflict.
He also questioned the Indian evidence on Lashkar-e-Taiba leader Hafiz Saeed vis-a-vis the 2008 Mumbai terror attack.
"Pakistan and India have to be friends," Malik said after arriving from Islamabad, his landing delayed by about four hours. "I come with a message of love and peace from the people of Pakistan."
He underlined that India and Pakistan had travelled a long distance since the Mumbai attack when their relations touched a new low.
Malik said because of interactions between the leaders of India and Pakistan, the "journey to peace is progressing very well", and gave credit to President Asif Ali Zardari and Prime Minister Manmohan Singh.
"We are all here to take the peace process forward," he added.
But Malik remained adamant that the evidence provided by India thus far linking Saeed with the Mumbai attack was not enough to stand scrutiny in a court.
"Just a statement from (hanged Pakistani terrorist Ajmal Amir) Kasab is not enough. We have to follow the law of the land. And of course (satisfy) the court... There has been a lot of propaganda about Hafiz Saeed.
But if India provided credible evidence, "I will order his arrest even before returning home. We have no love lost for Hafiz Saeed".
He later said that Pakistan had arrested seven people for the Mumbai attack and another 20 had been declared proclaimed offenders.
"We will not leave any stone unturned. The day is not far away when you will see convictions (in the Mumbai case)."
Indian soldier Kalia's father has taken his son's torture-killing to the Supreme Court, saying Pakistan should be told to apologize.
Asked about Kalia, Malik said: "When a fight is going on the border, we really don't know whether he was killed with a Pakistani bullet or he died because of the weather."
After meeting Shinde, Malik said: "We do not want 9/11, Mumbai bomb blast, Samjhauta Express blast. We do not want Babri Masjid issue."
The new liberalized visa regime would make travel easier for some sections including the elderly, the young and those in business.
It is expected to boost people-to-people contacts and trade.
The visa agreement was signed by then Indian external affairs minister S.M. Krishna and Malik in Islamabad Sep 8.
"When (Indians) enter Pakistan, they should feel they are coming to their own home," Malik said. "Similar should be the case when people of Pakistan enter India."
The minister invited the Indian prime minister to visit Pakistan.
Malik will call on Manmohan Singh and opposition leader Sushma Swaraj Saturday. He is also tipped to meet National Security Advisor Shivshankar Menon.