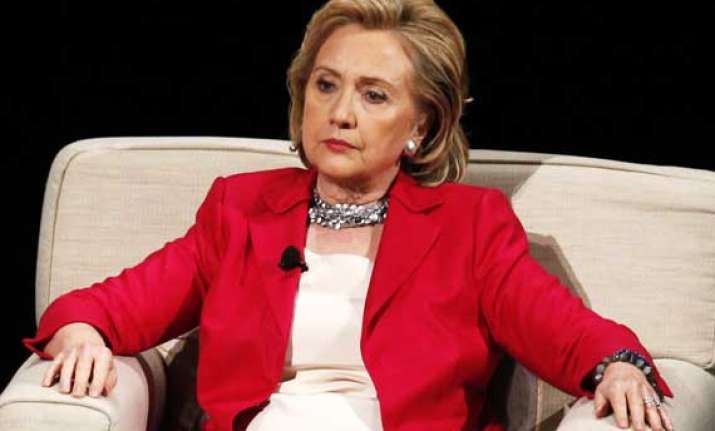 New Delhi: It's a story that can drive a dagger through the heart of any prospective Presidential bid by Hillary Clinton.
A provocative new book that is being released this week claims that the former First Lady has serious medical problems, including abnormal heart rhythms and a thyroid condition.
It also talks of several fainting spells she had in office when she was Secretary of State, and efforts to keep them secret.
Hillary Clinton "had managed to keep her medical history secret out of fear that, should it become public, it would disqualify her from becoming president," writes Edward Klein in "Blood Feud," his book that releases Monday on the contentious relationship between the Clintons and Obamas.
The medical scare that forced Clinton to be rushed to New York-Presby­terian Hospital on Dec. 30, 2013, revealed how serious the situation is.
"She has to be carefully monitored for the rest of her life," doctors warned former President Bill Clinton before Hillary was released from the hospital, according to the book.
The book claims Hillary was taken to New York­Presbyterian after a fainting spell and concussion that she suffered in her seventh-floor office at the State Department — not at her home, as claimed.
Hillary was initially treated at a State Department facility and was transferred to her home to recover.
Bill Clinton, however, insisted Hillary be flown to New York City and be treated by specialists there, Klein claims.
Klein's credibility is low. He had made wild, unsubstantiated allegations in a previous 2005 hatchet job titled "The Truth About Hillary: What She Knew, When She Knew It, and How Far She'll Go to Become President," including claiming she was a lesbian etc., the kind of garbage that the ultra right wing recycled with relish.
Even conservatives panned the book, with one reviewer writing, "Thirty pages into it, I wanted to take a shower. Sixty pages into it, I wanted to be decontaminated. And 200 pages into it, I wanted someone to drive stakes through my eyes so I wouldn't have to suffer through another word."
That has hardly dimmed Klein's propensity to rile up the liberals.
Blood Feud also talks about the alleged animosity between the Clintons and the Obamas, including Michelle Obama referring to the former First Lady as "Hildebeest" and Barack Obama considering reneging his promise to back Hillary Clinton for the 2016 ticket and teasing the former President that Michelle Obama would be a strong candidate for the Oval office.