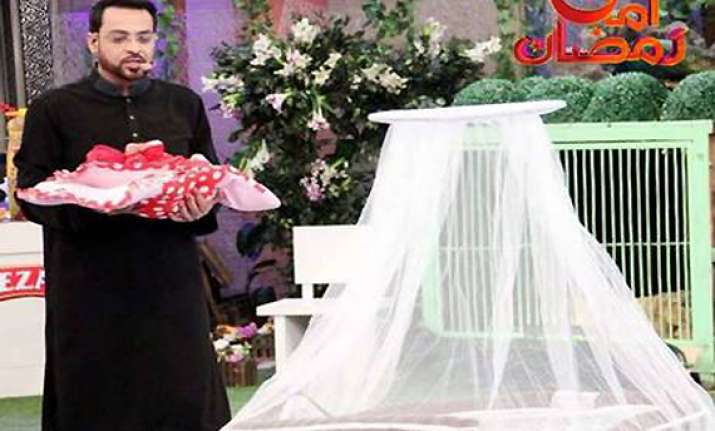 Lahore, Aug 5: There is widespread consternation among intellectual circles in Pakistan over a Geo TV quiz show host gifting an orphan baby, well wrapped in silk, to a childless couple LIVE on his show during Ramzan.
TV show host Aamir Liaquat Hussain is a well-known face in Pakistan and he has been anchoring quiz show on Geo TV gifting motorbike, laptop, home theatre, cellphones, car, washing machine, but has now reached the extreme: gifting orphan babies alongwith a beautiful cot to childless couples.
Hussain says, the orphaned babies are arranged by an NGO Chhhipa Foundation, and everything is done in a transparent manner, but knowledgeable circles ask whether it was proper to show childless couples "winning" orphaned babies in quiz shows.
Anwar Kazmir of another reputed NGO Edhi Foundation says, such matters should be kept confidential, otherwise it could be troublesome for the childless couples and the baby, when he or she grows up.
In one TV quiz show, the host Aamir Liaquat Hussain gifted an orphaned baby, well wrapped in pink and red to a childless couple Zulfiqar Hussain and his wife Suraiya Bilkis, and even went to the extent of naming the girl Zainab.
Says eminent lawyer Ashok Agrawal: "This is a violation of children's rights. Any adoption is preceded by proper verification of the adopting couple and then the process of adoption begins. It can't be done live on TV shows."
Pakistani adoption law is stringent. Any couple wishing to adopt a boy or a girl has to approach the court for permission, and only then the couple gets the right to adopt the child.