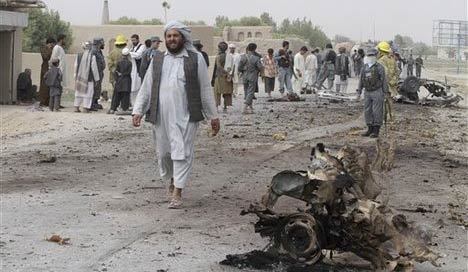 Kabul, Nov 5 : A teenage suicide bomber today blew himself up in a crowded bazaar in northwest Afghanistan, killing at least nine people and wounding 30 others, police said.The attack targeted the head of the Faryab provincial council, Mullah Rahmatullah Turkistani, police chief Khalil Andarabi said.
Turkistani, who was wounded in the blast, regularly visits the bazaar in Khwaja Sabz Post district on Fridays to hear citizens' concerns and dine at a local restaurant, Andarabi said.
"Witnesses told police that they saw a teenage boy walking in the bazaar," Andarabi said. "He had a book in his hands and sometimes he was reading. He was probably waiting for his target to come."
When Turkistani arrived, the teenager walked toward him and detonated his cache of explosives, killing an Afghan policeman and eight civilians and wounding 30 more, Andarabi said. Witnesses identified the bomber through his body parts found at the scene.
Afghan President Hamid Karzai condemned the attack as an "anti-Islamic" act, but stressed it would not halt his government's efforts to promote peace and stability in Afghanistan.
Associated Press Television News footage from the scene showed yellow and red apples pockmarked with shrapnel lying in pools of blood and a man's shoe.
Turkistani's pickup truck, which took the brunt of the blast, was pitted with holes and body parts of the bomber lay on a blanket nearby. An ambulance removed the victims' bodies, covered with pink-and-yellow blankets, from the scene.
Attacks in the north and west of the country - though not militarily significant - show that violence is rising across wide swaths of Afghanistan even as the US and its allies mount a major effort to turn the tide of the nearly 9-year-old war in the south.
While Taliban influence in the north and west is not as pervasive as in the movement's southern heartland, the insurgency has been slowly expanding its presence in areas such as Kunduz, Faryab and Baghlan since 2007, mostly among Pashtuns who are a minority in northern parts of the country.Meanwhile, NATO said three of its service members were killed today.
The coalition said two service members were killed by insurgent attacks in southern Afghanistan, and a third in the east. NATO did not provide further details or the service members' nationalities.AP