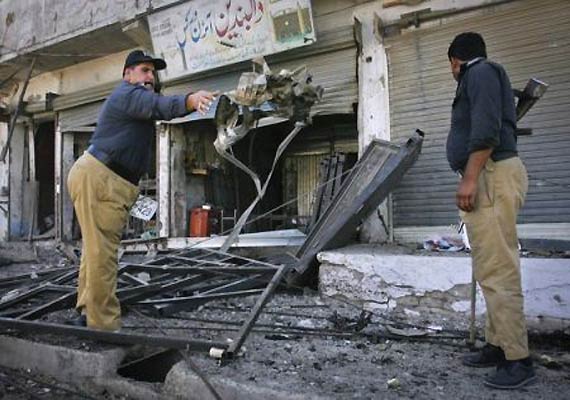 Islamabad, Aug 14: Thirteen people were killed and dozens injured as the restive Balochistan province was rocked by bomb blasts and incidents of violence as Pakistan celebrated its Independence Day on Sunday.

At least 11 people were killed and 30 others were injured when a bomb blast ripped through a roadside hotel in Dera Allah Yar city in the south-western province, police and witnesses said.

The hotel was destroyed by the blast, which damaged nearby shops and buildings.

Police officials said eight to 10 people could still be buried under the rubble.

Footage on television showed local residents digging through the debris with their hands to pull out the bodies and the injured.

Witnesses said the bomb was placed in the two-storey hotel's ground floor. The powerful explosion was heard from several kilometres away. No group claimed responsibility for the blast.

In a separate incident, unidentified gunmen killed two labourers from Punjab province in Lasbella district of Balochistan.

The attackers, who were riding a motorcycle, opened fire at the men working in a farm in Sakran area, 10 km from Hub town, police said.

The men succumbed to their injuries while being taken to hospital. They belonged to Muzaffargarh district of Punjab.

The gunmen managed to escape.

In yet another incident, two children were wounded in an explosion at a bus terminal in Mastung town. They were taken to a nearby hospital. Law enforcement personnel cordoned off the area and launched a search for the attackers.

Balochistan has witnessed a sharp increase in political and sectarian violence in recent weeks.

The violence is usually blamed on Baloch nationalist groups that have been waging a bloody campaign for more autonomy and a greater say in decision-making.