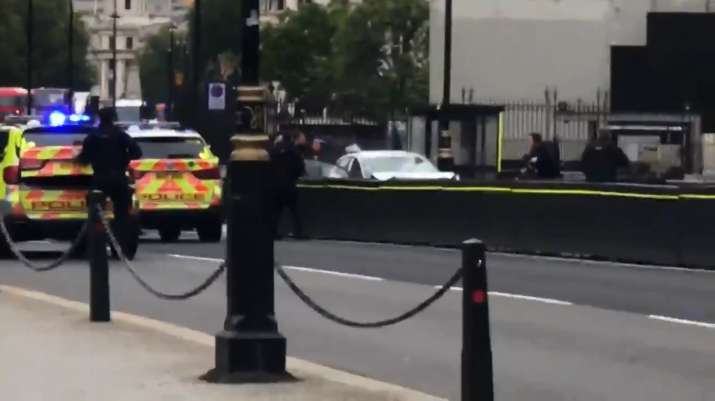 A man has been arrested by security forces in the United Kingdom's capital London for crashing his car against the barricades of Houses of Parliament on Tuesday morning (IST). According to reports, several pedestrians were injured in the incident. 
Westminster is in lockdown after the silver vehicle is believed to have hit a number of people on Tuesday morning, Telegraph reported. 
Scotland Yard said a man has been arrested after the incident shortly after 7.30 am.
Armed police were seen surrounding the car before leading a man away in handcuffs. A series of ambulances arrived at the scene.
Breaking: Big armed police response to car which has cashed into Parliament barriers we are now being moved back pic.twitter.com/rYAqExq6rn

— Vincent McAviney (@VinnyMcAv) August 14, 2018
At 0737hrs today, a car was in collision with barriers outside the Houses of Parliament. The male driver of the car was detained by officers at the scene. A number of pedestrians have been injured. Officers remain at the scene. We will issue further info when we have it, the police said in an official statement. 
The Westminster station has also been closed for entry and exit due to a security alert outside the station, the station is however open for interchange between the lines.
The police have confirmed that 'at this stage, officers do not believe that anybody is in a life-threatening condition'. Cordons are in place to assist the investigation, the statement sad.
Streets around Parliament Square, Millbank and Victoria Tower Gardens were also cordoned off as dozens of armed police swooped on the scene.
The Houses of Parliament are surrounded with security barriers of steel and concrete.
The measures were extended in the wake of the Westminster Bridge attack in March 2017, when Khalid Masood ploughed a car into crowds on Westminster Bridge, killing four people.
Masood abandoned his car then stabbed and killed unarmed Pc Keith Palmer before he was shot by armed police in a courtyard outside Parliament.