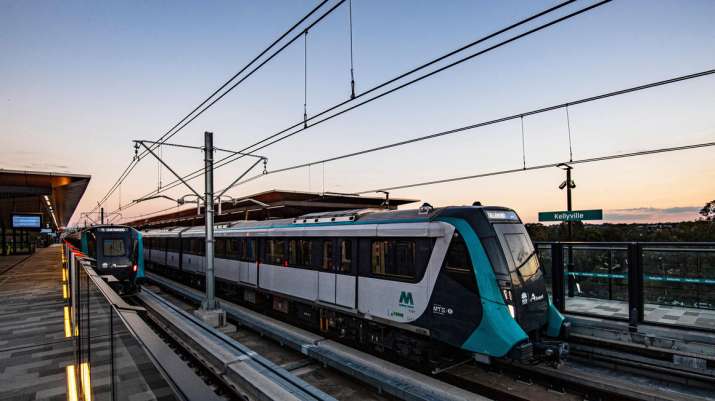 In a milestone for Prime Minister Narendra Modi's 'Make in India' initiative, Australia's Sydney Metro launched its first fully automated driverless rail service that will be served by 22 Alstom six-coach trains.
Alstom, a multinational company that operates in rail networks market, had delivered 22 'Made in India' Metropolis trains to Sydney that were assembled at its Sri City facility in Andhra Pradesh last December.
The driverless Sydney Metro trains are fully automated and consist of various modern features including LED lighting, emergency intercoms, CCTV cameras, real-time travel information, double-doors and more.
According to Australian television network SBS, the Metro North West Line is Stage 1 of Sydney Metro that includes 36 km of track, 13 stations and a depot.
Designed in France and assembled at its centre of excellence in Sri City India, these fully automated driverless metro has been made with contributions from Alstom's operations in Australia, Brazil, China and Belgium.
"Alstom is very proud to have partnered with the NRT consortium and Transport for New South Wales (TfNSW) to deliver our world-leading metro solutions for Sydney's North West Metro. Sydney has now joined other great cities of the world (incl. Paris, Amsterdam, Barcelona and Singapore) that benefit every day from Alstom's metro solutions. The fully automated driverless metro is a first for Australia and will provide a step-change for the commuters of Sydney" Australian television network SBS quoted Ling Fang, senior vice-president for Alstom in Asia-Pacific, as saying.
The Metro line is currently being extended from Chatswood to Bankstown via the City and by 2024 Sydney will have 31 metro stations and a 66-kilometre standalone metro railway in addition to its extensive suburban rail network.
Australia's first driverless #metro in #Sydney commences revenue service today. Congratulations to @SydneyMetro we are proud to be part of this milestone!https://t.co/njbZo321ll #MetroNorthWest pic.twitter.com/EcQ0XMeloX

— Alstom (@Alstom) May 26, 2019