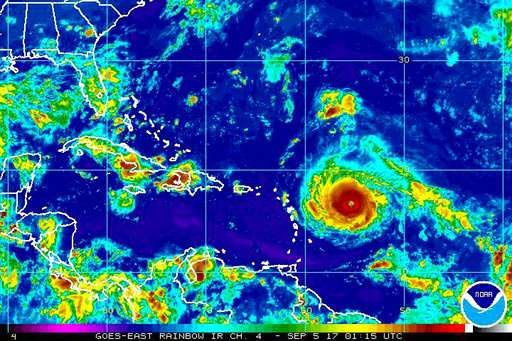 Officials across the northeastern Caribbean cancelled airline flights, shuttered schools and urged people to hunker down indoors as Hurricane Irma barreled toward the region as a powerful Category 4 storm expected to strengthen more before nearing land late today.
States of emergency were declared in Puerto Rico, the US Virgin Islands and all of Florida while people on various Caribbean islands boarded up homes and rushed to find last- minute supplies, forming long lines outside supermarkets and gas stations.
Irma had maximum sustained winds of 220 kph late yesterday, the US National Hurricane Center said. It was centered 660 kilometers east of the Leeward Islands and moving west at 20 kph.
Authorities warned that the storm could dump up to 25 centimeters of rain, cause landslides and dangerous flash floods and generate waves of up to 7 meters.
"This is not an opportunity to go outside and try to have fun with a hurricane," US Virgin Islands Gov Kenneth Mapp warned. "It's not time to get on a surfboard."
The storm's center was expected to move near or over the northern Leeward Islands late today and early tomorrow, the hurricane center said.
Residents on the US East Coast were urged to monitor the storm's progress in case it should turn northward toward Florida, Georgia or the Carolinas.
"This hurricane has the potential to be a major event for the East Coast. It also has the potential to significantly strain FEMA and other governmental resources occurring so quickly on the heels of (Hurricane) Harvey," Evan Myers, chief operating officer of AccuWeather, said in a statement.
In the Caribbean, hurricane warnings were issued for 12 island groups, including Antigua, where the governor urged people to evacuate the tiny island of Anegada if they could ahead of the storm.
Vivian Wheatley, proprietor of the Anegada Reef Hotel, planned to stay behind. She said she would hold up in one of the hotel rooms and take advantage of the generator since there were no guests.
"We know it's a very powerful (storm), and we know it's going to be very close," she said. "Let's hope for the best."
People in the US territory of Puerto Rico braced for electricity outages after the director of the island's power company predicted that storm damage could leave some areas without electricity for four to six months. But "some areas will have power (back) in less than a week," Ricardo Ramos told radio station Notiuno 630 AM.