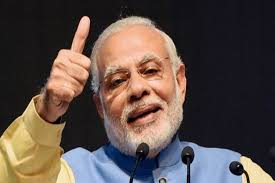 Narendra Modi is an outright winner for the Prime Minister's choice in India, IndiaTV CNX Opinion Poll said yesterday. But what if we tell you that he is also a popular choice in Pakistan. Yes, that is true. A recent poll conducted by a Pakistan journalist who goes by the twitter handle @javerias has thrown the result in favour of Prime Minister Modi.
More than three lakh people voted in a poll started by Pakistani journalist Javeria Siddique. Her question was Khan vs Modi , #BestPM India Pakistan.
Option 1: Imran Khan
Option 2: Narendra Modi
Who emerged as the winner in the Twitter poll? Well, no points for guessing. It was PM Narendra Modi with 52 per cent votes in his kitty, leaving a deluge of hilarious responses on the social networking site. Total of 312,899 people participated in the poll. 
The Twitter poll was posted by Pakistani journalist Javeria Siddique amid deteriorating ties between India and Pakistan.
The poll put to test the popularity of PM Narendra Modi and Pakistan Prime Minister Imran Khan, and the result had Twitteratis in splits.
Khan vs Modi #BestPM #India #Pakistan

— Javeria Siddique (@javerias) March 1, 2019
Here are some of the best Twitter responses on the poll:
Modi 🤣🔥 pic.twitter.com/bLOKuZeDQA

— Delhi se Hoon BC (@delhichatter) March 1, 2019
POPAT👎🏻👇🏻😂😂 pic.twitter.com/VpfToKqGaw

— Apurva Singh (@iSinghApurva) March 1, 2019
#Pakistan government is down and modi on fire 💥🔥 pic.twitter.com/zeMRoCfmZZ

— कैलाsh याdav (@iKailashYadav) March 1, 2019
अब ये टेंशन में हैं कि पोल न ही डालती तो बेहतर होता...😂😂😂

— Vishal (@bhushan_vishaal) March 1, 2019
The poll comes after air strikes on Jaish-e-Mohammed terror camps in Pakistan, a retaliation to the February 14 attack on CRPF jawans in Jammu and Kashmir's Pulwama, in which 40 personnel were killed. Pakistan-based Jaish-e-Mohammed had claimed responsibility of the attack.