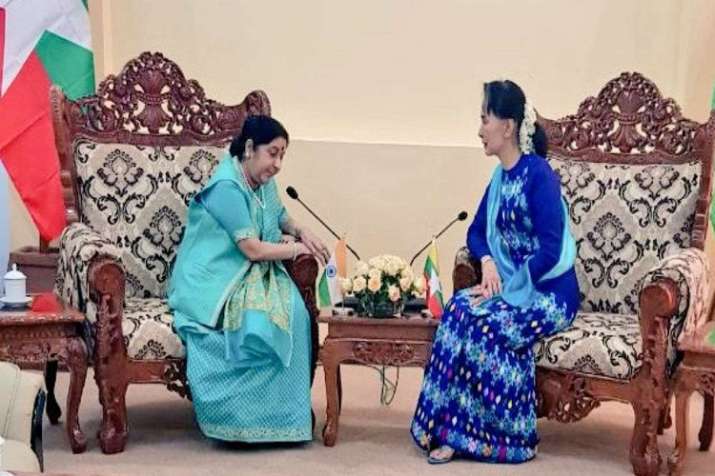 External Affairs Minister Sushma Swaraj who is on a two-day Myanmar visit met the country's de-facto leader Aung San Suu Kyi in Naypyidaw on Friday.
Seven agreements pertaining to several bilateral issues were signed in their presence.
Mrs Swaraj arrived in Myanmar on Thursday. Over the two-day visit, the minister will hold talks with the country's top leadership on important bilateral and regional issues including the Rohingya refugee crisis.
More than 6,70,000 Rohingyas, a mainly Muslim minority group, have fled Rakhine since August following a violent crackdown by the country's security forces. They have been denied citizenship in Myanmar and are classified as illegal immigrants. The refugees have accused the troops of rape, torture, arson and murder. The United Nations has called the violence an attempt at "ethnic cleansing".
In December last year, India had sanctioned Rs 168 crore for the development of the north-western province of Rakhine. On Wednesday, India sent its second relief consignment to Bangladesh to help the displaced Rohingyas.
Earlier in the day, she also met Commander-in-Chief of the Myanmar armed forces, Senior General Min Aung Hlaing. On May 10, she met the President of Myanmar Win Myint in Naypyidaw.
Her visit is a part of the ongoing high-level interaction between the governments of India and Myanmar, according to a Ministry of External Affairs (MEA) statement.
The visit comes after Prime Minister Narendra Modi's visit to Myanmar in September last year