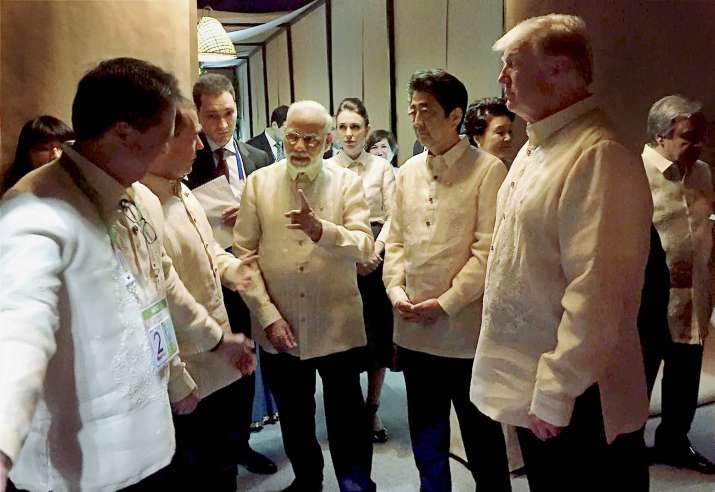 Prime Minister Narendra Modi and United States President Donald Trump will hold bilateral talks here on Monday at 1pm.
The two will hold the meeting on the sidelines of the 15th Association of South East Asian Nations (ASEAN) India summit and the 12th East Asia Summit in the Philippine capital.
The two leaders also met briefly on Sunday as they arrived for the event.
Later, PM Modi and Trump also posed for a family photograph with others leaders, including Canadian Prime Minister Justin Trudeau, Russian Prime Minister Dmitry Medvedev, and Japanese PM Shinzo Abe, participating in the event. 
Modi was also seen chit-chatting with Japanese Prime Minister Shinzo Abe, Russian Prime Minister Dmitry Medvedev and Malaysian Prime Minister Najib Razak at the reception for the leaders who have arrived here for the 31st ASEAN summit and related meetings. 
He also held brief interactions with several other leaders who attended the reception hosted by Philippine President Rodrigo Duterte at the mega SMX Convention Centre in Pasay City here. 
The prime minister as well as all other leaders wore Barong Tagalong, an embroidered shirt which is the national dress of the Philippines. Renowned Filipino designer Albert Andrada has designed the shirts. 
Modi also tweeted pictures of his interaction with several leaders. 
The menu of the gala dinner featured various Filipino cuisines including Filipino steak sushi. 
The brief interaction between Modi and Trump came ahead of their scheduled bilateral meeting tomorrow. The two leaders are expected to deliberate on a number of key issues of mutual interest including the evolving security situation in the Indo-Pacific region where Washington favours a greater role by India. 
There have been concerns over China's growing military presence in the Indo-Pacific and the issue was understood to have figured in a meeting of officials from India, the US, Japan and Australia today under the proposed Quadrilateral coalition of the four countries. 
"The discussions focused on cooperation based on their converging vision and values for promotion of peace, stability and prosperity in an increasingly inter-connected region that they share with each other and with other partners," the ministry of external affairs said in a statement.
"They agreed that a free, open, prosperous and inclusive Indo-Pacific region serves the long-term interests of all countries in the region and of the world at large," it said. 
On Tuesday, Modi will attend the ASEAN-India and East Asia summits where he is likely to reassert India's push for crafting a global approach to deal with growing challenge of terrorism and radicalisation besides pitching for steps to boost regional trade. 
Modi will hold bilateral meetings with Duterte tomorrow. 
He also had a conversation with Li at the dinner.
"PM @narendramodi had a warm and cordial conversation with the Chinese Premier Li Keqiang at the Gala Dinner," MEA spokesperson Raveesh Kumar tweeted.
(With PTI inputs)