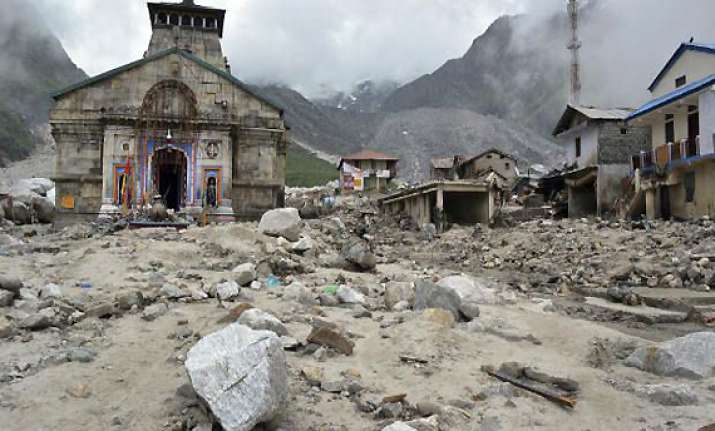 Dehradun, Aug 10: Forty-eight more bodies were extricated from the heaps of rubble in Uttarakhand's worst flood-hit Kedarnath area by police and NDRF personnel, even as four persons were feared dead when their jeep fell into the swollen Mandakini river.
The bodies, extricated since Thursday, were consigned to flames after necessary rituals, officials said. 
With this, the total number of bodies disposed of at the Himalayan shrine area has reached 188 since the start of operations over a month ago.
The police and NDRF personnel had a tough time in pulling out the bodies from the debris, as they had to cut through iron rods of the collapsed structures. While 25 bodies were extricated yesterday, 23 were pulled out on Friday .
Rs 5 lakh in cash, along with items like voter ID cards, mark-sheets and debit cards have been recovered from the Kedarnath area during the clearing-up operations, the officials said.
In Ranikhet, four persons were feared dead after their jeep fell into the swollen Mandakini river yesterday. The vehicle, on its way to to Chabndrapuri in Rudraprayag district from Agastyamuni, was swept away by the river's swirling waters.
Heavy rains continued to lash Uttarkashi and Ranikhet districts of the state today, affecting relief operations.
Rishikesh-Gangotri National Highway was blocked at a number of places beyond Netala in Uttarkashi district due to debris rolling down from the hills, even as an electric pole fell due to heavy rains at Gufiyara, leading to power breakdown at many places in Rudraprayag district, officials said.
The road restoration work has been getting repeatedly affected because of the rains, they said, adding that the Rishikesh-Badrinath highway was also blocked at many points between Joshimath and Ruadraprayag.
Purola in Uttarkashi district received the maximum 88 MM of rains followed by Ranikhet, which received 50 MM of showers, MeT department Director Anand Sharma said.
The MeT office has predicted that light to moderate rains will lash most places in the state, with possibility of heavy showers at isolated areas.
Authorities in Rudraprayag said efforts are still on to trace Almora SDM Ajay Arora, who slipped from a makeshift bridge and fell into the Mandakini river last week while supervising clean-up operations at Kedarnath.
The family of Arora has announced a reward of Rs two lakh for anyone giving information about him.