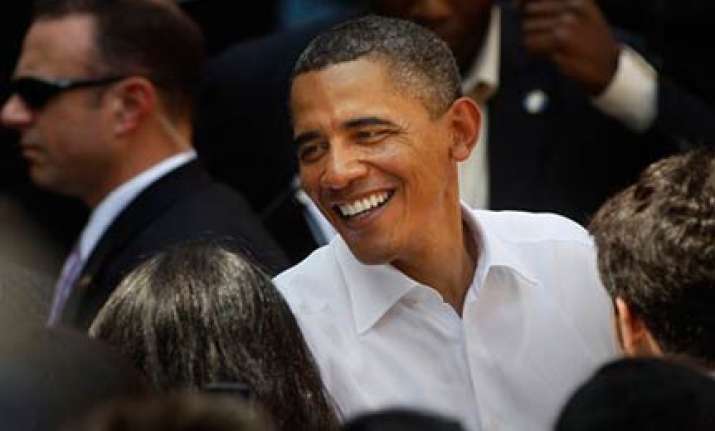 New Delhi/Mumbai, Nov 7 (PTI) Ahead of his strategic dialogue with the Indian leadership, President Barack Obama today made it clear that the US would not "impose" itself on Indo-Pak relations even as he said that Pakistan's progress in fighting terrorism was not quick enough.
After a hectic 26-hour stay in Mumbai, where the focus was on business and economic issues, the US leader flew in this afternoon to New Delhi where Prime Minister Manmohan Singh set aside protocol to greet him personally.
During the packed morning schedule in Mumbai, a relaxed Obama and Michelle joined school children in a dance performance before he addressed a town hall interaction with students at which he fielded questions ranging from Mahatma Gandhi to why US was fighting shy of declaring Pakistan a terrorist state.
He said his administration's foreign policy has been to engage aggressively with Pakistan to communicate that they wanted nothing more than a stable, prosperous and peaceful Pakistan.
"And we will work with Pakistani Government in order to eradicate this extremism that we consider a cancer within the country that can potentially engulf the country," he said.
The US President said the Pakistan Government understood now that the potential threat that exists within its own borders.
"There are more Pakistanis who have been killed by terrorists inside Pakistan than probably anywhere else. Progress is not as quick as we liked," he told a student who asked why Pakistan is an important ally for the US and why it was not declaring that country as a terrorist state.
Maintaining that it is in India's interest to have a stable and peaceful Pakistan, Obama expressed the hope that in time trust develops between India and Pakistan and dialogue begins perhaps on "less controversial issues building up to more controversial issues".
Replying to a question on Afghanistan, Obama said there are going to be some elements that are affiliated to Taliban, Al-Qaeda, LeT or other organisations.
"These are extremists that are irreconcilable will be there and there will need to be a military response to those who would perpetuate the kind of violence that we saw here in Mumbai in a significant ongoing way or the kind we saw on 9/11 in New York City," he said.
A young student questioned the US President about jihad and what he thought of it.
"Well, the phrase jihad has a lot of meanings within Islam and is subject to a lot of interpretations," he replied, adding the overwhelming majority of those who practice Islam believe in peace, justice, fairness and tolerance.
He said everyone recognised that this great religion, in the hands of a few extremists, has been distorted to justify violence towards innocent people and the challenge is how to isolate them.
"I think all of us have to fundamentally reject the notion that violence is the way to mediate our differences," he said.
On economy, he sought greater access to Indian markets to protect American interest, saying countries that trade with it would have to reciprocate and open up.
"There has to be reciprocity in our trading relationship. And if we can have those kind of conversations -- fruitful, constructive conversation about how we produce win-win situations. Then I think we will be fine," he said.
After landing in Delhi, Obama accompanied by Michelle visited Humayun's Tomb and spent around 40 minutes at the 16th century monument.