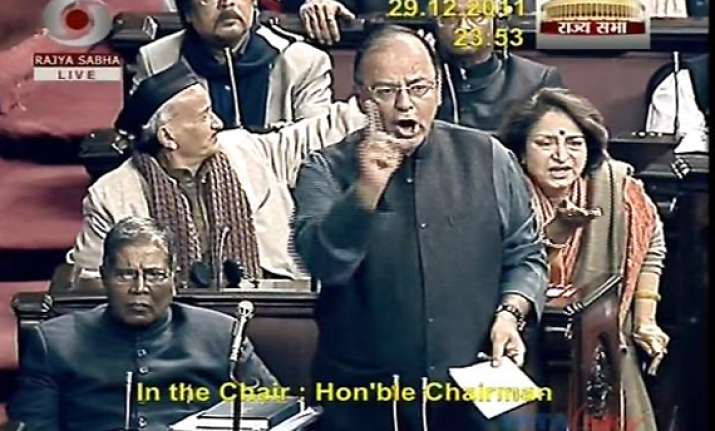 New Delhi, Dec 29: The UPA government tonight literally ran away from putting the Lokpal Bill to vote in the Rajya Sabha fearing it would be defeated, while the main opposition BJP alleged that it was all "choreographed" by the government.
 
At the stroke of midnight hour, the Rajya Sabha chairman Hamid Ansari  declared the extended winter session of Rajya Sabha adjourned sine die.
 
Leader of Opposition Arun Jaitley hit out at the government saying it was "ironical" that as leader of the opposition he was tonight commanding a majority in the Upper House, while the government was in a minority and was running away from putting the Lokpal bill to vote.
 
"This government does not deserve to remain in power even for a minute", said Jaitley.
 
Earlier, Parliamentary Affairs Minister Pawan Kumar Bansal told the Chairman that the government needed time to "study" the 186 amendments that have been moved for the Lokpal Bill and needed time.
 
He said that the extended session of Rajya Sabha was to end at midnight today, and hence the government will come forward with its views on the amendments in the next session.
 
Bansal also pointed out that the first session of the new year is customarily addressed by the President of India, followed by a Motion of Thanks, and hence the possibility of Lokpal bill being taken up again in Rajya Sabha was now remote.
 
Amidst jeers from the opposition, Bansal said that the government was prepared to get the Lokpal Bill passed within "minutes" if the opposition agreed to pass as it was passed in the Lok Sabha.
 
Jaitely rejected this suggestion and asked the chairman to extend the sitting of  Rajya Sabha in order to pass the Lokpal Bill. 
 
CPI-M leader Sitaram Yechury said that government should come out with a clear plan when it will come with the Lokpal Bill again.
 
Earlier, there was a brief drama when RJD lmember Rajniti Prasad snatched a paper being read out by Minister of Personnel V Narayanaswamy leading to adjournment for 15 minutes.
 
Since this evening it was clear that the government was dragging its feet on putting the Lokpal Bill to vote, with Mamata Banerjee adamant in her stand on Lokayukta issue.