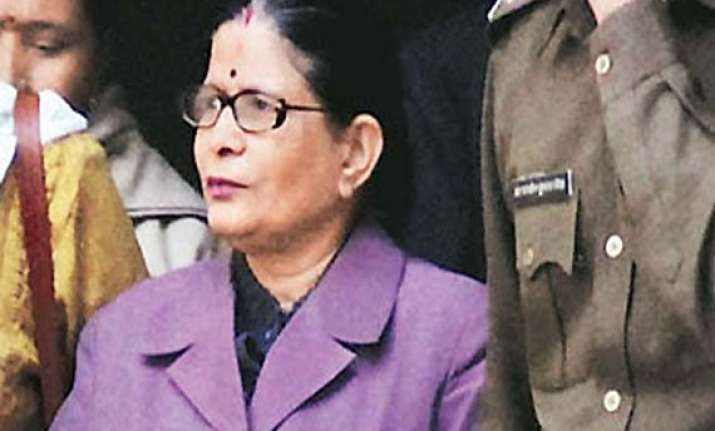 Ghaziabad, Nov 20 : Former Uttar Pradesh chief secretary Neera Yadav, who served as Noida chairperson, and another Indian Administrative Service (IAS) officer were given three years' jail by a CBI special court here for irregular land allotments.
Central Bureau of Investigation (CBI) Special Judge S. Lal pronounced the judgment in the Noida plot allotment scandal in which the Supreme Court had ordered an inquiry by the probe agency against Neera Yadav and Noida's then deputy CEO Rajiv Kumar.
The two were held guilty under penal provisions for conspiracy and under various section of the anti-corruption law.
The court also slapped a penalty of Rs.100,000 each on the convicts.
Soon after the verdict, the two convicts were granted bail by the court against a bond of Rs.1 lakh each. They were also granted one month to appeal against the judgment, said CBI Prosecutor I.D. Vaid.
The CBI prosecutor said that Neera Yadav was accused of abusing her position by allotting two commercial properties in the names of her two daughters - Surichi and Sanskriti. Both the daughters were shown in records as business persons while during investigation they were found to be students.
Surichi was found studying in Kirori Mal College in Delhi while Sanskriti was found studying in Britain.
Rajiv Kumar was found guilty in a case in which he allotted plot No.86/51 and later transferred the allotment to a prime location in sector-14A as plot No.27. An adjoining land, measuring 105 square metre, was also clubbed with the plot.
He is currently posted as the state's principal secretary appointment, personnel and vigilance departments.
Neera Yadav, who has retired now, served as the chief secretary during Samajwadi Party chief Mulayam Singh Yadav's tenure as chief minister. The CBI registered a case against Neera Yadav and others Feb 26, 1998. The chargesheet was filed Oct 16, 2002.
Defence counsel Sudhir Tyagi told IANS that the case earlier landed in the apex court after a group of Noida entrepreneurs filed a writ petition in that court.
In 2010, a CBI special court sentenced Neera Yadav to four years' imprisonment after finding her guilty in a 2002 land allocation case pertaining to illegal allocation of commercial plots in Noida. She was given bail by the Allahabad High Court in December 2010.
Neera Yadav was named the chief secretary of Uttar Pradesh in 2005 by Mulayam Singh and the Supreme Court had intervened seeking her removal from the top post.
The Ghaziabad court's verdict Tuesday comes at a time when the eight-month-old state government led by Mulayam Singh's son, Akhilesh Yadav, is facing flak from the high court over alleged wrongdoings in Noida land allotments.
The high court Nov 8 directed the state government to remove the CEO of Noida Authority Sanjeev Saran and chairman of the authority Rakesh Bahadur. The government Monday filed a review petition in the case.