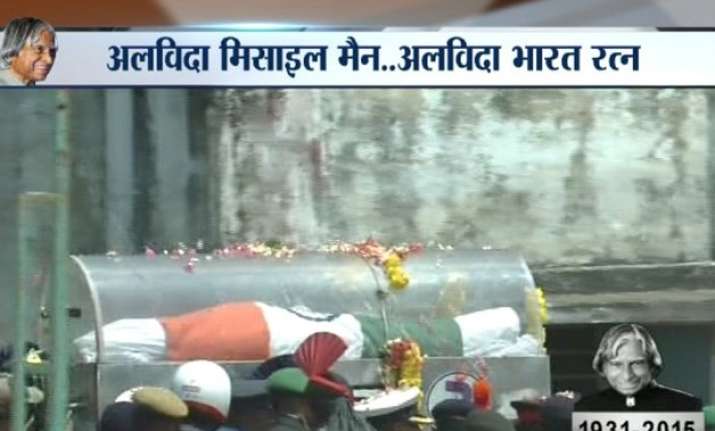 Nagpur/New Delhi:  Yakub Memon, the lone 1993 Mumbai serial blasts convict whose death sentence was upheld by the Supreme Court, was hanged to death today, capping dramatic last-ditch legal manoeuvres by his lawyers to stall his execution that ended in failure.
Yakub Memon's body was later buried at a Mahim based graveyard (Bada Kabristan) in Mumbai.
Rameswaram (TN):  In a spontaneous outpouring of grief, thousands of people bid an an emotional farewell to former President APJ Abdul Kalam who was today laid to rest with full state honours in his home town here amid chants of "Bharat Mata Ki Jai".
The body of Kalam was buried in the middle of a 1.5 acre piece of land earmarked for the purpose at Peikarumbu here after being brought from his family mosque where special prayers were offered.
New Delhi: A political war of words erupted on Thursday over the execution of 1993 Mumbai blast convict Yakub Memon, with a section of opposition leaders speaking against the death sentence.
Congress general secretary Digvijaya Singh fired the first salvo, saying that the BJP- led government should show "similar commitment" in all cases of terror as it showed in the case of Yakub Memon.
Islamabad: Pakistan on Thursday termed India accusing Islamabad over a terror attack in Punjab as "unfortunate" and said countering terrorism could only be possible through cooperation.
"Pointing fingers before investigation is not a healthy trend," foreign office spokesperson Qazi Khalilullah was quoted as saying by Dawn online
New Delhi: Raising a red flag over "empty promises" of the Modi government, global giant Moody's today said delay in key reforms is denting business confidence and the foreign investors are wary of investing in India.  
While pegging India's true growth potential at near 10 per cent, Moody's also warned that "GDP growth is not likely to rise above 7.5 per cent if the government continues to over-promise and not deliver"