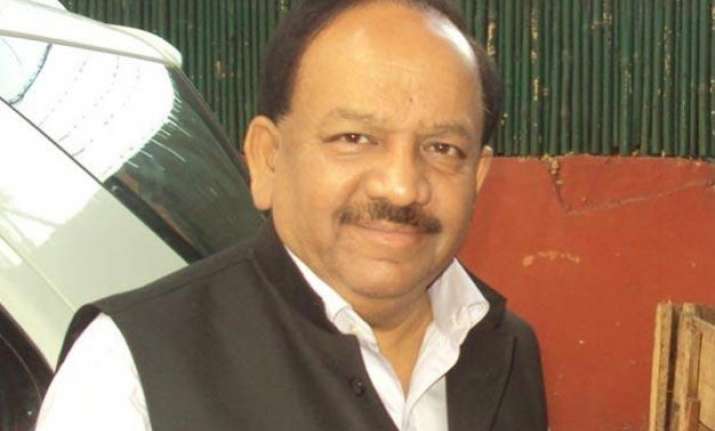 Bengaluru: Union Minister for Science and Technology Harsh Vardhan today asserted that tobacco produces nothing less than death as he took exception about member's of a Parliamentary panel commenting on the issue that has raised questions about conflict of interest.
"I can only say that as an ENT surgeon, as a former Health Minister, as a Doctor I can say that tobacco produces death and nothing less than that," he said in response to a question by reporters on the issue of increasing the size of pictorial warnings on tobacco in the backdrop of a controversy generated by BJP members of a parliamentary panel suggestin "nil" effects of smoking.
Harsh Vardhan was the Health Minister when the notification was issued by the ministry making 85 per cent of space on cigarette packs and other tobacco products to be mandatorily covered with graphic and text warnings of health hazard.
Asked whether the members with conflict of interest should stay in the panel, on the sidelines of an event organised by Council of Scientific and Industrial Research, National Aerospace Laboratories here, he said "I think this is quite natural, why should anybody who has a conflict on interest should be commenting on a subject which raises questions about the conflict of interest."
Government had yesterday said that it will take a "measured and responsible" decision on the issue, with Union Finance Minister Arun Jaitley making it clear that the decision of the government in the matter will not be based on the opinions of individuals.
Harsh Vardhan's comments came amid reports that Prime Minister Narendra Modi had directed removal of the members with "conflicting interests" from the Committee of Subordinate Legislations examining the the provisions of Cigarettes and Other Tobacco Products Act 2003.
Refusing to comment on Prime Minister's intervention on the issue, he said "I won't comment on what the Prime Minister has said.....after the Prime Minister has given his opinion on a subject there is no reason for any Minister to be commenting on that."
BJP MPs Dilip Gandhi, Shyam Charan Gupta, Ram Prasad Sarmah have claimed there is no clear proof yet linking cigarette puffing and cancer. While Gandhi, who is the head of the parliamentary panel, had said that there was no Indian study to show the link between tobacco usage and cancer, Gupta said he could produce a lot of people who are chain smokers of beedi and have had no disease till date.
Gupta's remarks have also been criticised by Opposition parties including Congress, SP and CPI(M) which alleged that there was a "conflict of interest" as Gupta was in tobacco trade and also a member of Parliamentary Committee of Subordinate Legislation looking into the rules regarding tobacco sale in the country.