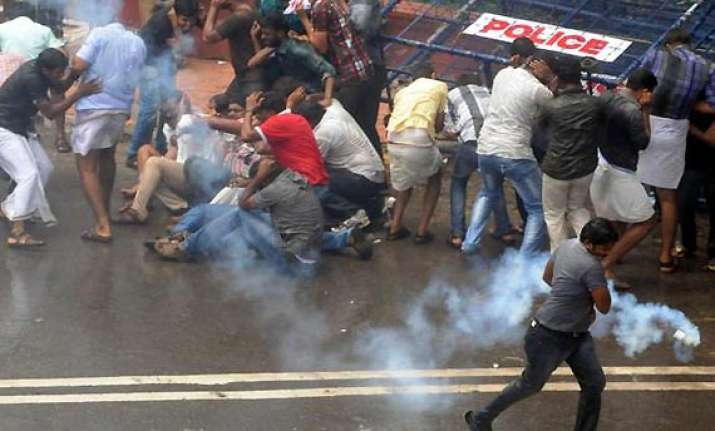 Thiruvananthapuram: Beleaguered Kerala Chief Minister Oommen Chandy today announced a judicial probe by a sitting judge of the High Court into the solar scam, as the CPI(M)-led LDF continued its indefinite siege of the Secretariat here demanding his resignation for the second day. 
After taking stock of the situation with senior leaders of the Congress and UDF partners, Chandy told reporters that the Government was ready to discuss the terms-of-reference of the judicial inquiry with LDF leaders.  
Chandy appealed to the LDF to call off its agitation in the state capital in view of the decision to hold a judicial probe into the scam.
He said the government had made it clear earlier itself that it had an open mind on instituting any kind of probe once the Special Investigation Team (SIT) completed its ongoing criminal investigation into the scam.  Chandy, however, ruled out his resignation when the judicial probe was on.
He said government would seek the services of a High Court judge for the probe.Government was ready to incorporate in the terms and reference of the probe any suggestions from the Opposition, if they come forward.
LDF should end the stir if their real intention was to expose the culprits behind the scam, Chandy said, adding Opposition should come forward for a dialogue with government to end the stir.
Chandy maintained that Opposition was not able to establish that government gave any special favour to the Solar company floated by the alleged fraudsters Saritha Nair and Biju Radhakrishnan.
"Not a single rupee has been lost to the government exchequer due to the scam," he pointed out.  
As the SIT had completed the probe and the charge sheet is to be submitted in the court on Friday, the UDF thought it was appropriate to announce a judicial inquiry.
Meanwhile, LDF leaders are meeting here to formulate the opposition's response to the government's overture.  
The scam, which has been rocking the state for the past two months, pertains to financial cheating of many people by accused  Radhakrishnan and Nair, both under arrest, by offering clients solar energy solutions. They allegedly flaunted their clout with the CM's office for duping unsuspecting clients of huge sums.
It took a political turn after the arrest of a personal assistant of Chandy for his alleged links with the accused. A gunman of the chief minister was also suspended for his alleged association with the accused.