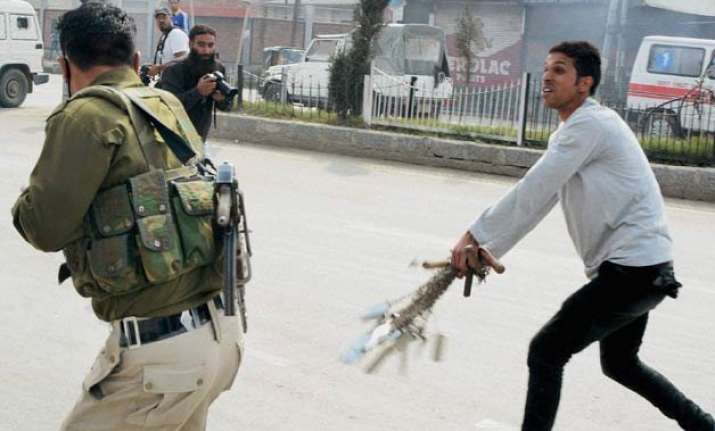 Srinagar: Parts of Kashmir today saw clashes between stone-pelting mobs and police as strict restrictions were imposed in view of Muharram and the fourth day ceremony of the trucker Zahid who died in Udhampur attack.
Authorities scuttled plans of the separatist leaders to visit Batengoo village in Anantnag to hold condolence meetings for Zahid by putting under house arrest or detaining them, including Syed Ali Shah Geelani of hardline Hurriyat Conference, Mirwaiz Umar Farooq of moderate Hurriyat, Shabir Shah of Democratic Freedom Party and Yasin Malik of JKLF.
Attempts to take out Muharram processions in various parts of Kashmir, mainly in Srinagar, were also thwarted, resulting in clashes.
Authorities had imposed strict restrictions on movement of the people in various parts of Srinagar and the roads leading to Zahid's Batengoo village as they apprehended law and order problem in view of the proposed public meeting in Anantnag and attempts by Shia mourners to take out a procession through traditional route in Srinagar to mark 8th Muharram.
Geelani-led Hurriyat had planned to organise a condolence meeting at Batengoo and had appealed to the people to attend it to mark the fourth day ceremony of the deceased, who succumbed to injuries sustained in the October 9 attack.
Concertina wires were laid at various city routes in and around the city centre Lal Chowk and all routes leading to Anantnag, blocking the passage of vehicles.
Lal Chowk and surrounding areas were put off limits for people to prevent the Shia community from taking out the Muharram procession. Police did not allow any vehicle to enter the city centre as a preventive measure.
Authorities had imposed restrictions in areas falling under police station Maisuma, Shaheedgunj, Karan Nagar, Batamaloo, Shergarhi and Ram Munshi Bagh in Srinagar.
The traditional Muharram procession used to pass through these areas but have been banned since eruption of militancy in 1990 as authorities maintain that the religious gathering has been used for propagating separatist politics.
Groups of Shia mourners made repeated attempts to take out Muharram procession through the traditional route but were chased away by police who used teargas shells and batons.
Dozens of mourners were also taken into preventive custody. A group of Shia mourners first emerged at Habbakadal and indulged in stone pelting but were chased away by police and paramilitary personnel, the officials said.
Hours later, a bigger group appeared at Shuthrashahi on the rear side of the civil Secretariat building and started marching towards Dalgate.
However, the procession was stopped by police leading to clashes between the two sides, the officials said, adding police burst half a dozen teargas shells and used batons besides making preventive detentions to restore order.
Another group came out from Batmaloo locality and were intercepted by police, the officials said adding some of them managed to reach Jehangir Chowk but were detained by police.
Ittehadul Muslimeen (IM), a constituent of moderate faction of Hurriyat Conference, had vowed to take out the Muharram procession despite restrictions even as one of its delegations yesterday called on the state Governor N N Vohra, seeking his intervention in lifting the ban on the procession in the city on traditional routes.
The officials said there was no report of any causality in the clashes.
Geelani, who was under house arrest, came out from his Hyderpora residence on Srinagar-Airport road and tried to proceed towards Batengoo but was prevented by the police personnel deployed there, officials said adding he was then taken to the nearby police post Humhama and lodged there.
Besides Geelani, several other separatist leaders including Mirwaiz Farooq, Shabir Shah, were placed under house arrest yesterday to prevent them from visiting Batengoo. Yasin Malik was also taken into preventive custody last evening and lodged at police station Kothibagh.
Restrictions were also imposed in Anantnag town and Bijbehara police station area as a precautionary measure in view of clashes that took place yesterday and day before.
Traffic on Srinagar-Jammu National Highway has been suspended due to the restrictions while train services have been suspended for the day.