Follow us on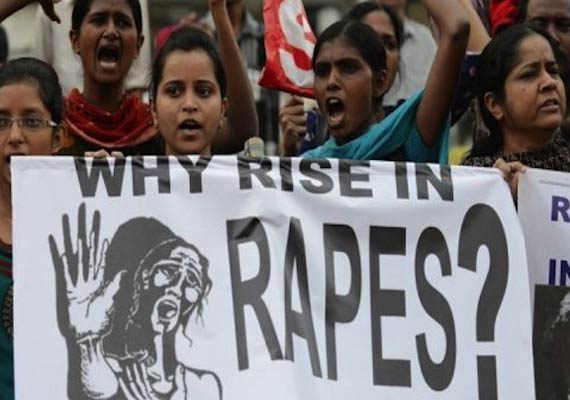 New Delhi: Campaigners in India are calling for tougher penalties for sex offenders after a massive rise in the number of rapes.
According to the latest government figures, a woman is now raped in India every 30 minutes.
A 13-year analysis of crime data reveals that a little more than 57 rapes were reported every day.
This averages over two rapes every hour, every day during the last 13 years. A total of 2,72,844 cases were reported across 28 states and seven UTs in this period.
A Commonwealth Human Rights Initiative (CHRI) analysis of reported rape cases between 2001 and 2013 shows 2,64,130 rapes were reported in 28 states during the 13-year period - an average of almost 56 incidents of rape per day.
In the seven UTs, the average is almost two rapes per day. However, Delhi alone accounted for 8,060 reported incidents during this period.
While 16,075 cases of rape were reported in 2001 across all states and UTs, in 2013, the figure stood at 33,707 - indicating an increase of 52.30%.
In the last 12 months, there have been a number of high profile cases which have caused outrage across the nation.
One of the most shocking attacks happened in the state of Haryana.Unusually the victim waived her right to anonymity.Shabnam, 16, was gang raped by eight men from her village. Her attackers filmed the assault on their mobile telephones.
When her father became aware that the images were being shared around the village, he committed suicide out of shame.
Haryana is a tight-knit, mainly agrarian community where family honour and the avoidance of shame are a matter of life and death for many.
But the brave schoolgirl wants the world to know what happened because she says too many victims are either too afraid or too ashamed to speak out.
The number of cases reported in Maharashtra increased by 135%, rising from 1,302 in 2001 to 3,063 in 2013.
In Karnataka, Rajasthan, Uttarakhand, Gujarat, Haryana, Jharkhand and Himachal Pradesh, the number of cases reported was more than double the figure reported in 2001.
Another reason for the increase in number of cases reported in 2013 would be the fear of punishment in the minds of police officers to whom cases of rape are reported.
During the 13-year period, Madhya Pradesh reported the most number of rapes at 40,422. The average figure for Madhya Pradesh is more than eight rapes per day during the 13-year period.
This is 44% higher than that of West Bengal which stood second with 22,472 cases reported which averages almost five incidents of rape per day across the state. It is followed by Uttar Pradesh with 22,108 rapes reported, averaging 4.65 incidents a day.
Delhi reported 8,060 cases during this period, much more than the larger states of Tamil Nadu (7,875 cases), Karnataka (6,204 cases) and Gujarat (4,981 cases).
Campaigners say India's laws for the protection of women are robust but are demanding better policing and stiffer jail terms.